DYNC1H1 Kits ELISA
(Dynein, Cytoplasmic 1, Heavy Chain 1 (DYNC1H1))
Dyneins are a group of microtubule-activated ATPases that function as molecular motors. They are divided into two subgroups of axonemal and cytoplasmic dyneins. The cytoplasmic dyneins function in intracellular motility, including retrograde axonal transport, protein sorting, organelle movement, and spindle dynamics. Molecules of conventional cytoplasmic dynein are comprised of 2 heavy chain polypeptides and a number of intermediate and light chains.This gene encodes a member of the cytoplasmic dynein heavy chain family. [provided by RefSeq, Oct 2008].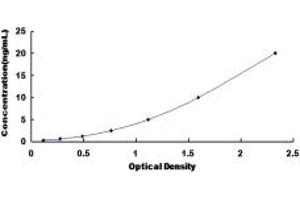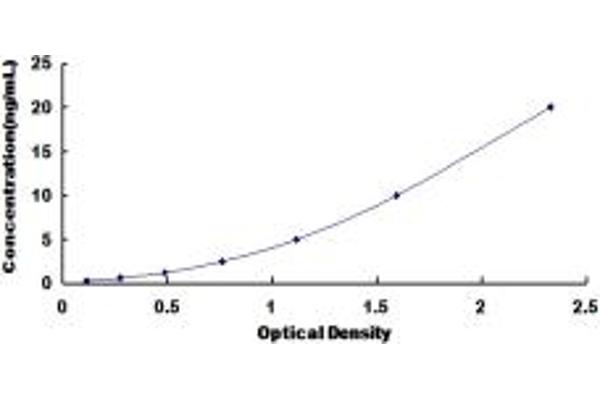 DYNC1H1 Kit ELISA

(ABIN6955477)
DYNC1H1 Reactivité: Humain Colorimetric Sandwich ELISA 0.31 ng/mL - 20 ng/mL Tissue Homogenate
DYNC1H1 Kits ELISA par Réactivité
Trouvez DYNC1H1 Kits ELISA pour une variété d'espèces telles que anti-Human DYNC1H1. Les espèces listées ci-dessous sont parmi celles disponibles. Cliquez sur un lien pour accéder aux produits correspondants.
DYNC1H1 Kits ELISA par Méthode de détection
On trouve ici des DYNC1H1 Kits ELISA avec un Méthode de détection spécifique. Les Méthode de détection mentionnés ici sont quelques-uns de ceux qui sont disponibles. Un clic sur le lien correspondant permet d'accéder aux produits
DYNC1H1 Kits ELISA par Analytical Method
On trouve ici des DYNC1H1 Kits ELISA avec un Analytical Method spécifique. Les Analytical Method mentionnés ici sont quelques-uns de ceux qui sont disponibles. Un clic sur le lien correspondant permet d'accéder aux produits
DYNC1H1 Kits ELISA par Type de méthode
On trouve ici des DYNC1H1 Kits ELISA avec un Type de méthode spécifique. Les Type de méthode mentionnés ici sont quelques-uns de ceux qui sont disponibles. Un clic sur le lien correspondant permet d'accéder aux produits
DYNC1H1 Kits ELISA par Sample
On trouve ici des DYNC1H1 Kits ELISA avec un Sample spécifique. Les Sample mentionnés ici sont quelques-uns de ceux qui sont disponibles. Un clic sur le lien correspondant permet d'accéder aux produits
DYNC1H1 Kits ELISA fréquemment utilisés
Produit
Reactivity
Analytical Method
Validations
N° du produit
Quantité
Fiche technique
Reactivity Human
Analytical Method Quantitative Sandwich ELISA
N° du produit ABIN6955477
Quantité 96 tests
Pseudonymes pour DYNC1H1 Kits ELISA
dynein, cytoplasmic 1, heavy chain 1 (dync1h1) Kits ELISA
dynein cytoplasmic 1 heavy chain 1 (DYNC1H1) Kits ELISA
dynein cytoplasmic 1 heavy chain 1 (dync1h1) Kits ELISA
dynein cytoplasmic 1 heavy chain 1 (Dync1h1) Kits ELISA
9930018I23Rik Kits ELISA
AI894280 Kits ELISA
dhc1 Kits ELISA
DHC1 Kits ELISA
dhc1a Kits ELISA
DHC1a Kits ELISA
dnch1 Kits ELISA
Dnch1 Kits ELISA
DNCH1 Kits ELISA
dnchc1 Kits ELISA
Dnchc1 Kits ELISA
dncl Kits ELISA
DNCL Kits ELISA
Dnec1 Kits ELISA
dnecl Kits ELISA
Dnecl Kits ELISA
DNECL Kits ELISA
dyhc Kits ELISA
DYHC Kits ELISA
fk70a07 Kits ELISA
hl-3 Kits ELISA
HL-3 Kits ELISA
Loa Kits ELISA
MAP1C Kits ELISA
mKIAA0325 Kits ELISA
p22 Kits ELISA
P22 Kits ELISA
SMALED1 Kits ELISA
Swl Kits ELISA
wu:fk70a07 Kits ELISA