HLA-DQA2 Kits ELISA
(Major Histocompatibility Complex, Class II, DQ alpha 2 (HLA-DQA2))
This gene belongs to the HLA class II alpha chain family. The encoded protein forms a heterodimer with a class II beta chain. It is located in intracellular vesicles and plays a central role in the peptide loading of MHC class II molecules by helping to release the CLIP molecule from the peptide binding site. Class II molecules are expressed in antigen presenting cells (B lymphocytes, dendritic cells, macrophages) and are used to present antigenic peptides on the cell surface to be recognized by CD4 T-cells. [provided by RefSeq, Jun 2010].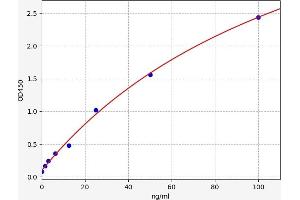 HLA-DQA2 Kit ELISA

(ABIN6968425)
HLA-DQA2 Reactivité: Boeuf (Vache) Colorimetric Sandwich ELISA 1.563 ng/mL - 100 ng/mL Plasma, Serum, Tissue Homogenate
HLA-DQA2 Kits ELISA par Réactivité
Trouvez HLA-DQA2 Kits ELISA pour une variété d'espèces telles que anti-Cow HLA-DQA2, anti-Human HLA-DQA2. Les espèces listées ci-dessous sont parmi celles disponibles. Cliquez sur un lien pour accéder aux produits correspondants.
HLA-DQA2 Kits ELISA par Méthode de détection
On trouve ici des HLA-DQA2 Kits ELISA avec un Méthode de détection spécifique. Les Méthode de détection mentionnés ici sont quelques-uns de ceux qui sont disponibles. Un clic sur le lien correspondant permet d'accéder aux produits
HLA-DQA2 Kits ELISA par Analytical Method
On trouve ici des HLA-DQA2 Kits ELISA avec un Analytical Method spécifique. Les Analytical Method mentionnés ici sont quelques-uns de ceux qui sont disponibles. Un clic sur le lien correspondant permet d'accéder aux produits
HLA-DQA2 Kits ELISA par Type de méthode
On trouve ici des HLA-DQA2 Kits ELISA avec un Type de méthode spécifique. Les Type de méthode mentionnés ici sont quelques-uns de ceux qui sont disponibles. Un clic sur le lien correspondant permet d'accéder aux produits
HLA-DQA2 Kits ELISA par Sample
On trouve ici des HLA-DQA2 Kits ELISA avec un Sample spécifique. Les Sample mentionnés ici sont quelques-uns de ceux qui sont disponibles. Un clic sur le lien correspondant permet d'accéder aux produits
HLA-DQA2 Kits ELISA fréquemment utilisés
Produit
Reactivity
Analytical Method
Validations
N° du produit
Quantité
Fiche technique
Reactivity Cow
Analytical Method Quantitative Sandwich ELISA
N° du produit ABIN6968425
Quantité 96 tests
Reactivity Human
Analytical Method Quantitative Sandwich ELISA
N° du produit ABIN6229656
Quantité 96 tests
Pseudonymes pour HLA-DQA2 Kits ELISA
major histocompatibility complex, class II, DQ alpha 2 (HLA-DQA2) Kits ELISA
DX-ALPHA Kits ELISA
HLA-DXA Kits ELISA