PSG9 Kits ELISA
(Pregnancy Specific beta-1-Glycoprotein 9 (PSG9))
The human pregnancy-specific glycoproteins (PSGs) are a group of molecules that are mainly produced by the placental syncytiotrophoblasts during pregnancy. PSGs comprise a subgroup of the carcinoembryonic antigen (CEA) family, which belongs to the immunoglobulin superfamily. For additional general information about the PSG gene family, see PSG1 (MIM 176390).[supplied by OMIM, Oct 2009].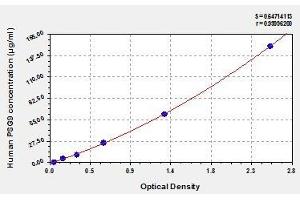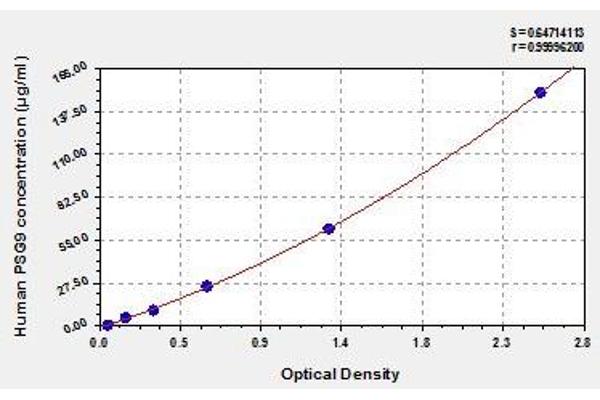 PSG9 Kit ELISA

(ABIN847922)
PSG9 Reactivité: Humain Colorimetric Sandwich ELISA 5-150 μg/mL Plasma, Serum
PSG9 Kits ELISA par Réactivité
Trouvez PSG9 Kits ELISA pour une variété d'espèces telles que anti-Human PSG9. Les espèces listées ci-dessous sont parmi celles disponibles. Cliquez sur un lien pour accéder aux produits correspondants.
PSG9 Kits ELISA par Méthode de détection
On trouve ici des PSG9 Kits ELISA avec un Méthode de détection spécifique. Les Méthode de détection mentionnés ici sont quelques-uns de ceux qui sont disponibles. Un clic sur le lien correspondant permet d'accéder aux produits
PSG9 Kits ELISA par Analytical Method
On trouve ici des PSG9 Kits ELISA avec un Analytical Method spécifique. Les Analytical Method mentionnés ici sont quelques-uns de ceux qui sont disponibles. Un clic sur le lien correspondant permet d'accéder aux produits
PSG9 Kits ELISA par Type de méthode
On trouve ici des PSG9 Kits ELISA avec un Type de méthode spécifique. Les Type de méthode mentionnés ici sont quelques-uns de ceux qui sont disponibles. Un clic sur le lien correspondant permet d'accéder aux produits
PSG9 Kits ELISA par Sample
On trouve ici des PSG9 Kits ELISA avec un Sample spécifique. Les Sample mentionnés ici sont quelques-uns de ceux qui sont disponibles. Un clic sur le lien correspondant permet d'accéder aux produits
PSG9 Kits ELISA fréquemment utilisés
Produit
Reactivity
Analytical Method
Validations
N° du produit
Quantité
Fiche technique
Reactivity Human
Analytical Method Quantitative Sandwich ELISA
N° du produit ABIN847922
Quantité 96 tests
Pseudonymes pour PSG9 Kits ELISA
pregnancy specific beta-1-glycoprotein 9 (PSG9) Kits ELISA
PS34 Kits ELISA
PSBG-9 Kits ELISA
PSBG-11 Kits ELISA
PSG11 Kits ELISA
PSGII Kits ELISA