PTPRO Kits ELISA
(Protein tyrosine Phosphatase, Receptor Type, O (PTPRO))
This gene encodes a member of the R3 subtype family of receptor-type protein tyrosine phosphatases. These proteins are localized to the apical surface of polarized cells and may have tissue-specific functions through activation of Src family kinases. This gene contains two distinct promoters, and alternatively spliced transcript variants encoding multiple isoforms have been observed. The encoded proteins may have multiple isoform-specific and tissue-specific functions, including the regulation of osteoclast production and activity, inhibition of cell proliferation and facilitation of apoptosis. This gene is a candidate tumor suppressor, and decreased expression of this gene has been observed in several types of cancer. [provided by RefSeq, May 2011].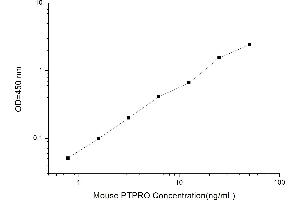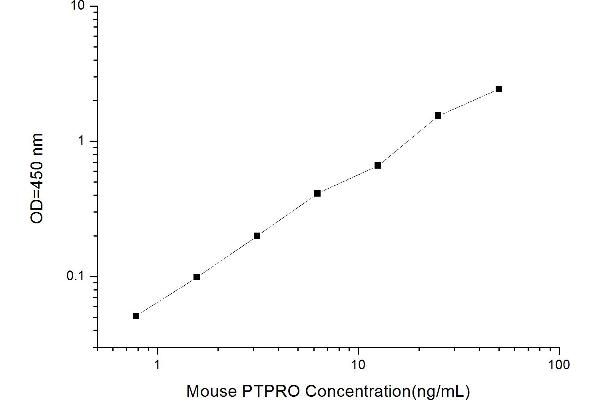 PTPRO Kit ELISA

(ABIN1116826)
PTPRO Reactivité: Souris Colorimetric Sandwich ELISA 0.781-50 ng/mL Plasma, Serum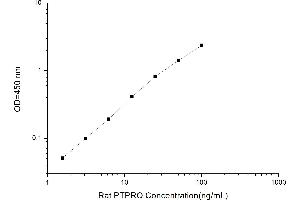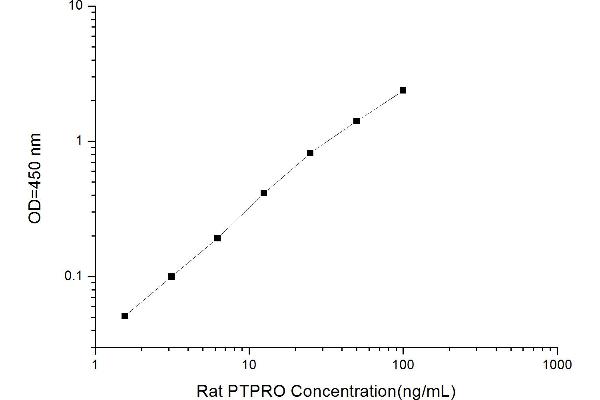 PTPRO Kit ELISA

(ABIN1116825)
PTPRO Reactivité: Rat Colorimetric Sandwich ELISA 1.563-100 ng/mL Plasma, Serum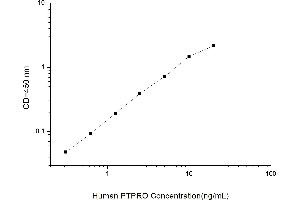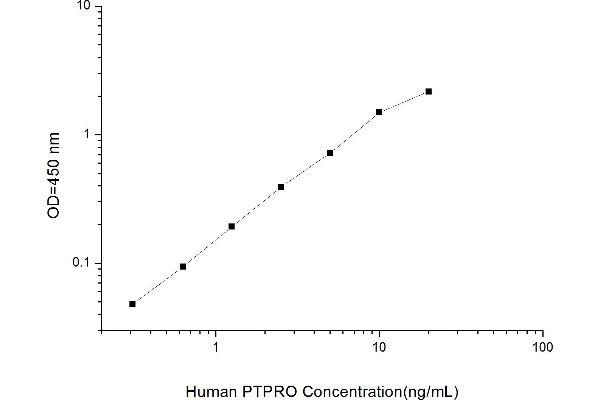 PTPRO Kit ELISA

(ABIN1116824)
PTPRO Reactivité: Humain Colorimetric Sandwich ELISA 0.31 ng/mL - 20 ng/mL Plasma, Serum
PTPRO Kits ELISA par Réactivité
Trouvez PTPRO Kits ELISA pour une variété d'espèces telles que anti-Human PTPRO, anti-Mouse PTPRO, anti-Rat PTPRO. Les espèces listées ci-dessous sont parmi celles disponibles. Cliquez sur un lien pour accéder aux produits correspondants.
PTPRO Kits ELISA par Méthode de détection
On trouve ici des PTPRO Kits ELISA avec un Méthode de détection spécifique. Les Méthode de détection mentionnés ici sont quelques-uns de ceux qui sont disponibles. Un clic sur le lien correspondant permet d'accéder aux produits
PTPRO Kits ELISA par Analytical Method
On trouve ici des PTPRO Kits ELISA avec un Analytical Method spécifique. Les Analytical Method mentionnés ici sont quelques-uns de ceux qui sont disponibles. Un clic sur le lien correspondant permet d'accéder aux produits
PTPRO Kits ELISA par Type de méthode
On trouve ici des PTPRO Kits ELISA avec un Type de méthode spécifique. Les Type de méthode mentionnés ici sont quelques-uns de ceux qui sont disponibles. Un clic sur le lien correspondant permet d'accéder aux produits
PTPRO Kits ELISA par Sample
On trouve ici des PTPRO Kits ELISA avec un Sample spécifique. Les Sample mentionnés ici sont quelques-uns de ceux qui sont disponibles. Un clic sur le lien correspondant permet d'accéder aux produits
PTPRO Kits ELISA fréquemment utilisés
Pseudonymes pour PTPRO Kits ELISA
protein tyrosine phosphatase, receptor type O (PTPRO) Kits ELISA
protein tyrosine phosphatase, receptor type, O (Ptpro) Kits ELISA
protein tyrosine phosphatase, receptor type O (Ptpro) Kits ELISA
D28 Kits ELISA
GLEPP1 Kits ELISA
NPHS6 Kits ELISA
PTP-OC Kits ELISA
PTP-U2 Kits ELISA
PTPBK Kits ELISA
Ptpn15 Kits ELISA
PTPoc Kits ELISA
PTPphi Kits ELISA
PTPROt Kits ELISA
PTPROT Kits ELISA
PTPU2 Kits ELISA
R-PTP-O Kits ELISA
RPTP-BK Kits ELISA