ADAMTS10 Kits ELISA
(ADAM Metallopeptidase with Thrombospondin Type 1 Motif, 10 (ADAMTS10))
This gene belongs to the ADAMTS (a disintegrin and metalloproteinase domain with thrombospondin type-1 motifs) family of zinc-dependent proteases. ADAMTS proteases are complex secreted enzymes containing a prometalloprotease domain of the reprolysin type attached to an ancillary domain with a highly conserved structure that includes at least one thrombospondin type 1 repeat. They have been demonstrated to have important roles in connective tissue organization, coagulation, inflammation, arthritis, angiogenesis and cell migration. The product of this gene plays a major role in growth and in skin, lens, and heart development. It is also a candidate gene for autosomal recessive Weill-Marchesani syndrome. [provided by RefSeq, Jul 2008].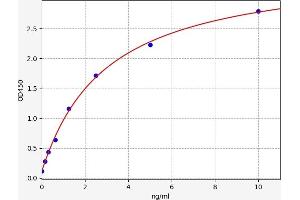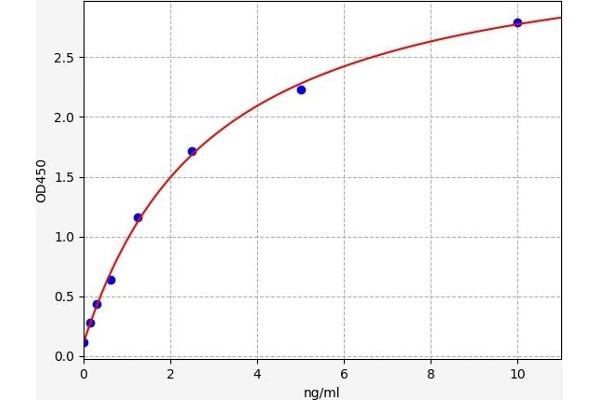 ADAMTS10 Kit ELISA

(ABIN6964598)
ADAMTS10 Reactivité: Humain Colorimetric Sandwich ELISA 0.156 ng/mL - 10 ng/mL Plasma, Serum, Tissue Homogenate
ADAMTS10 Kit ELISA

(ABIN1746269)
ADAMTS10 Reactivité: Lapin Colorimetric Competition ELISA 0.5-10 ng/mL Cell Culture Supernatant, Plasma, Serum, Tissue Homogenate
ADAMTS10 Kits ELISA par Réactivité
Trouvez ADAMTS10 Kits ELISA pour une variété d'espèces telles que anti-Human ADAMTS10, anti-Chicken ADAMTS10, anti-Cow ADAMTS10. Les espèces listées ci-dessous sont parmi celles disponibles. Cliquez sur un lien pour accéder aux produits correspondants.
ADAMTS10 Kits ELISA par Méthode de détection
On trouve ici des ADAMTS10 Kits ELISA avec un Méthode de détection spécifique. Les Méthode de détection mentionnés ici sont quelques-uns de ceux qui sont disponibles. Un clic sur le lien correspondant permet d'accéder aux produits
ADAMTS10 Kits ELISA par Analytical Method
On trouve ici des ADAMTS10 Kits ELISA avec un Analytical Method spécifique. Les Analytical Method mentionnés ici sont quelques-uns de ceux qui sont disponibles. Un clic sur le lien correspondant permet d'accéder aux produits
ADAMTS10 Kits ELISA par Type de méthode
On trouve ici des ADAMTS10 Kits ELISA avec un Type de méthode spécifique. Les Type de méthode mentionnés ici sont quelques-uns de ceux qui sont disponibles. Un clic sur le lien correspondant permet d'accéder aux produits
ADAMTS10 Kits ELISA par Sample
On trouve ici des ADAMTS10 Kits ELISA avec un Sample spécifique. Les Sample mentionnés ici sont quelques-uns de ceux qui sont disponibles. Un clic sur le lien correspondant permet d'accéder aux produits
ADAMTS10 Kits ELISA fréquemment utilisés
Produit
Reactivity
Analytical Method
Validations
N° du produit
Quantité
Fiche technique
Reactivity Human
Analytical Method Quantitative Sandwich ELISA
N° du produit ABIN6964598
Quantité 96 tests
Reactivity Chicken
Analytical Method
N° du produit ABIN1772289
Quantité 96 tests
Reactivity Rabbit
Analytical Method Quantitative Competition ELISA
N° du produit ABIN1746269
Quantité 96 tests
Reactivity Cow
Analytical Method
N° du produit ABIN1771065
Quantité 96 tests
Reactivity Monkey
Analytical Method Quantitative Competition ELISA
N° du produit ABIN1769841
Quantité 96 tests
Reactivity Sheep
Analytical Method
N° du produit ABIN1773513
Quantité 96 tests
Reactivity Pig
Analytical Method
N° du produit ABIN1749938
Quantité 96 tests
Reactivity Dog
Analytical Method Quantitative Competition ELISA
N° du produit ABIN1751161
Quantité 96 tests
Reactivity Mouse
Analytical Method Quantitative Competition ELISA
N° du produit ABIN1745050
Quantité 96 tests
Reactivity Human
Analytical Method Quantitative Competition ELISA
N° du produit ABIN1742609
Quantité 96 tests
Reactivity Guinea Pig
Analytical Method Quantitative Competition ELISA
N° du produit ABIN1747491
Quantité 96 tests
Reactivity Goat
Analytical Method
N° du produit ABIN1748714
Quantité 96 tests
Reactivity Rat
Analytical Method Quantitative Competition ELISA
N° du produit ABIN1743832
Quantité 96 tests
Pseudonymes pour ADAMTS10 Kits ELISA
a disintegrin-like and metallopeptidase (reprolysin type) with thrombospondin type 1 motif, 10 (Adamts10) Kits ELISA
ADAM metallopeptidase with thrombospondin type 1 motif 10 (ADAMTS10) Kits ELISA
ADAM metallopeptidase with thrombospondin type 1 motif, 10 (Adamts10) Kits ELISA
9430006O18 Kits ELISA
Adam-ts10 Kits ELISA
ADAM-TS10 Kits ELISA
Adamts-10 Kits ELISA
ADAMTS-10 Kits ELISA
AW045948 Kits ELISA
WMS Kits ELISA
WMS1 Kits ELISA
Znmp Kits ELISA