ALDH1A2 Kits ELISA
(Aldehyde Dehydrogenase 1 Family, Member A2 (ALDH1A2))
This protein belongs to the aldehyde dehydrogenase family of proteins. The product of this gene is an enzyme that catalyzes the synthesis of retinoic acid (RA) from retinaldehyde. Retinoic acid, the active derivative of vitamin A (retinol), is a hormonal signaling molecule that functions in developing and adult tissues. The studies of a similar mouse gene suggest that this enzyme and the cytochrome CYP26A1, concurrently establish local embryonic retinoic acid levels which facilitate posterior organ development and prevent spina bifida. Four transcript variants encoding distinct isoforms have been identified for this gene. [provided by RefSeq, May 2011].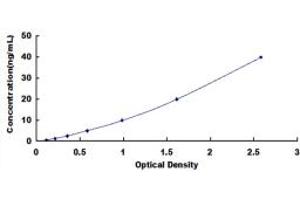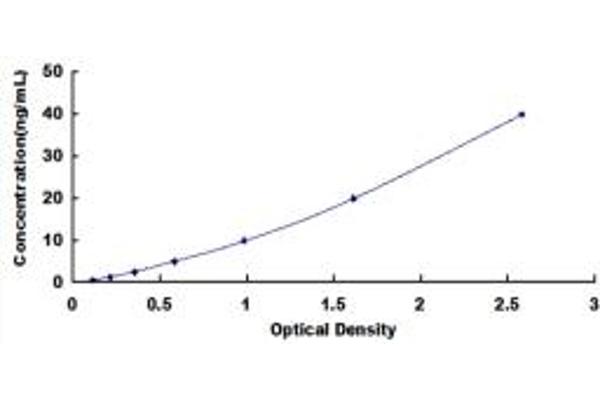 ALDH1A2 Kit ELISA

(ABIN6953591)
ALDH1A2 Reactivité: Humain Colorimetric Sandwich ELISA 0.62 ng/mL - 40 ng/mL Plasma, Serum, Tissue Homogenate
ALDH1A2 Kits ELISA par Réactivité
Trouvez ALDH1A2 Kits ELISA pour une variété d'espèces telles que anti-Human ALDH1A2. Les espèces listées ci-dessous sont parmi celles disponibles. Cliquez sur un lien pour accéder aux produits correspondants.
ALDH1A2 Kits ELISA par Méthode de détection
On trouve ici des ALDH1A2 Kits ELISA avec un Méthode de détection spécifique. Les Méthode de détection mentionnés ici sont quelques-uns de ceux qui sont disponibles. Un clic sur le lien correspondant permet d'accéder aux produits
ALDH1A2 Kits ELISA par Analytical Method
On trouve ici des ALDH1A2 Kits ELISA avec un Analytical Method spécifique. Les Analytical Method mentionnés ici sont quelques-uns de ceux qui sont disponibles. Un clic sur le lien correspondant permet d'accéder aux produits
ALDH1A2 Kits ELISA par Type de méthode
On trouve ici des ALDH1A2 Kits ELISA avec un Type de méthode spécifique. Les Type de méthode mentionnés ici sont quelques-uns de ceux qui sont disponibles. Un clic sur le lien correspondant permet d'accéder aux produits
ALDH1A2 Kits ELISA par Sample
On trouve ici des ALDH1A2 Kits ELISA avec un Sample spécifique. Les Sample mentionnés ici sont quelques-uns de ceux qui sont disponibles. Un clic sur le lien correspondant permet d'accéder aux produits
ALDH1A2 Kits ELISA fréquemment utilisés
Produit
Reactivity
Analytical Method
Validations
N° du produit
Quantité
Fiche technique
Reactivity Human
Analytical Method Quantitative Sandwich ELISA
N° du produit ABIN6953591
Quantité 96 tests
Pseudonymes pour ALDH1A2 Kits ELISA
aldehyde dehydrogenase 1 family, member A2 (Aldh1a2) Kits ELISA
aldehyde dehydrogenase 1 family member A2 (ALDH1A2) Kits ELISA
aldehyde dehydrogenase 1 family, member A2 (aldh1a2) Kits ELISA
aldehyde dehydrogenase family 1, subfamily A2 (Aldh1a2) Kits ELISA
Aldh1a7 Kits ELISA
AV116159 Kits ELISA
fb50h01 Kits ELISA
RALDH(II) Kits ELISA
Raldh-2 Kits ELISA
Raldh1 Kits ELISA
RALDH2 Kits ELISA
raldh2 Kits ELISA
Raldh2 Kits ELISA
RALDH2-T Kits ELISA