ATR Protéines
(ATR serine/threonine kinase (ATR))
The protein encoded by this gene belongs the PI3/PI4-kinase family, and is most closely related to ATM, a protein kinase encoded by the gene mutated in ataxia telangiectasia. This protein and ATM share similarity with Schizosaccharomyces pombe rad3, a cell cycle checkpoint gene required for cell cycle arrest and DNA damage repair in response to DNA damage. This kinase has been shown to phosphorylate checkpoint kinase CHK1, checkpoint proteins RAD17, and RAD9, as well as tumor suppressor protein BRCA1. Mutations of this gene are associated with Seckel syndrome. An alternatively spliced transcript variant of this gene has been reported, however, its full length nature is not known. Transcript variants utilizing alternative polyA sites exist. [provided by RefSeq, Jul 2008].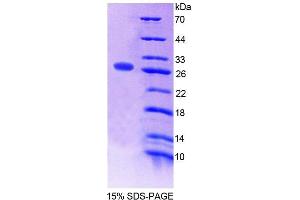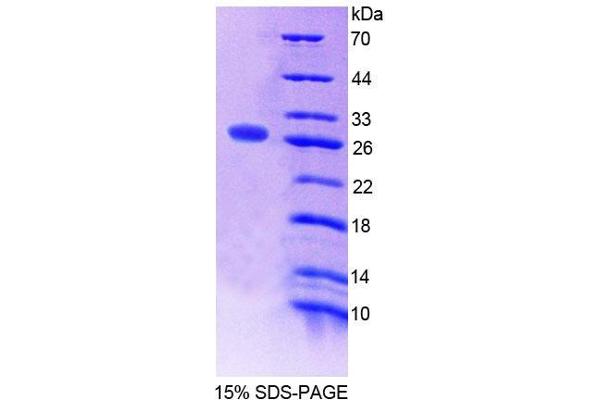 ATR Protein (AA 25-214) (T7 tag,His tag)

(ABIN6239504)
ATR Origine: Humain Hôte: Escherichia coli (E. coli) Recombinant > 90 % ELISA, IP, SDS, WB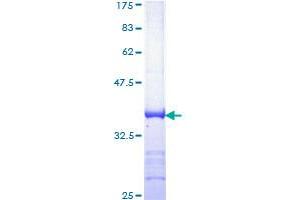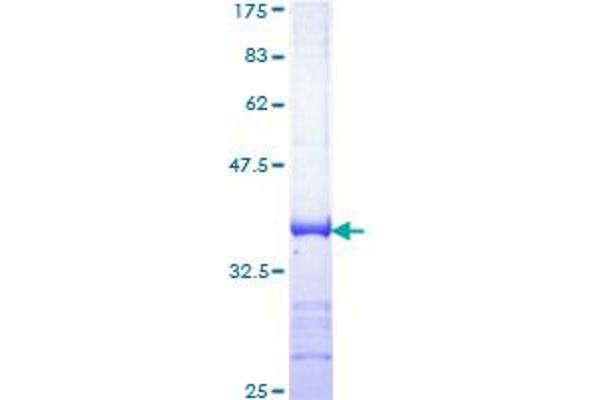 ATR Protein (AA 2545-2644) (GST tag)

(ABIN1346182)
ATR Origine: Humain Hôte: Wheat germ Recombinant AA, AP, ELISA, WB
ATR Protéines par Origin
Trouvez ATR Protéines pour une variété d'espèces telles que anti-Human ATR. Les espèces listées ci-dessous sont parmi celles disponibles. Cliquez sur un lien pour accéder aux produits correspondants.
ATR Protéines par Source
On trouve ici des ATR Protéines avec un Source spécifique. Les Source mentionnés ici sont quelques-uns de ceux qui sont disponibles. Un clic sur le lien correspondant permet d'accéder aux produits
ATR Protéines par Type Proteine
On trouve ici des ATR Protéines avec un Type Proteine spécifique. Les Type Proteine mentionnés ici sont quelques-uns de ceux qui sont disponibles. Un clic sur le lien correspondant permet d'accéder aux produits
ATR Protéines par Application
Trouver ATR Protéines validé pour une application spécifique telle que ELISA, WB, AP, AA. Certaines des applications disponibles sont énumérées ci-dessous. Cliquez sur un lien pour accéder aux produits correspondants
ATR Protéines fréquemment utilisés
Produit
Reactivity
Source
Validations
N° du produit
Quantité
Fiche technique
Reactivity Human
Source Escherichia coli (E. coli)
N° du produit ABIN6239504
Quantité 50 μg
Reactivity Human
Source Wheat germ
N° du produit ABIN1346182
Quantité 10 μg
Pseudonymes pour ATR Protéines
ATR serine/threonine kinase (ATR) Protéines
ataxia telangiectasia and Rad3 related (ATR) Protéines
ataxia telangiectasia and Rad3 related (Atr) Protéines
ATR serine/threonine kinase (Atr) Protéines
FCTCS Protéines
FRP1 Protéines
MEC1 Protéines
SCKL Protéines
SCKL1 Protéines