beta Amyloid Protéines
(Amyloid beta (Abeta))
This gene encodes a cell surface receptor and transmembrane precursor protein that is cleaved by secretases to form a number of peptides. Some of these peptides are secreted and can bind to the acetyltransferase complex APBB1/TIP60 to promote transcriptional activation, while others form the protein basis of the amyloid plaques found in the brains of patients with Alzheimer disease. Mutations in this gene have been implicated in autosomal dominant Alzheimer disease and cerebroarterial amyloidosis (cerebral amyloid angiopathy). Multiple transcript variants encoding several different isoforms have been found for this gene. [provided by RefSeq, Jul 2008].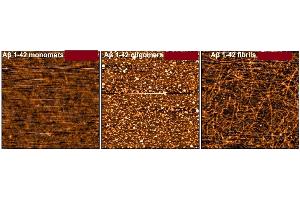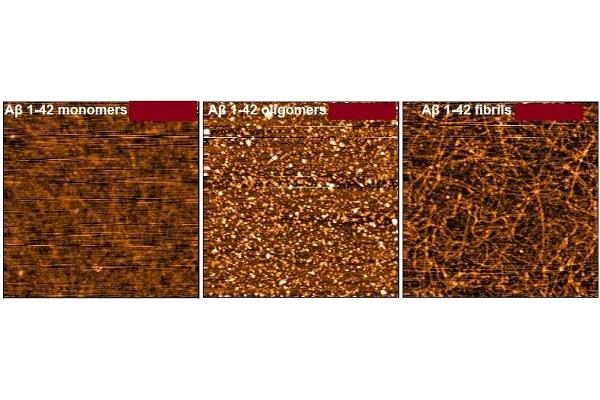 beta Amyloid Protéine

(ABIN7272125)
Abeta Origine: Humain Hôte: Synthetic Synthetic >95% pure using mass spec and HPLC. in vitro, in vivo, WB
beta Amyloid Protéines par Origin
Trouvez beta Amyloid Protéines pour une variété d'espèces telles que anti-Human beta Amyloid. Les espèces listées ci-dessous sont parmi celles disponibles. Cliquez sur un lien pour accéder aux produits correspondants.
beta Amyloid Protéines par Source
On trouve ici des beta Amyloid Protéines avec un Source spécifique. Les Source mentionnés ici sont quelques-uns de ceux qui sont disponibles. Un clic sur le lien correspondant permet d'accéder aux produits
beta Amyloid Protéines par Type Proteine
On trouve ici des beta Amyloid Protéines avec un Type Proteine spécifique. Les Type Proteine mentionnés ici sont quelques-uns de ceux qui sont disponibles. Un clic sur le lien correspondant permet d'accéder aux produits
beta Amyloid Protéines par Application
Trouver beta Amyloid Protéines validé pour une application spécifique telle que WB, ELISA, in vitro, in vivo. Certaines des applications disponibles sont énumérées ci-dessous. Cliquez sur un lien pour accéder aux produits correspondants
beta Amyloid Protéines fréquemment utilisés
Produit
Reactivity
Source
Validations
N° du produit
Quantité
Fiche technique
Reactivity Human
Source Synthetic
N° du produit ABIN7272125
Quantité 100 μg
Reactivity Human
Source Escherichia coli (E. coli)
N° du produit ABIN5849635
Quantité 100 μg
Pseudonymes pour beta Amyloid Protéines
amyloid beta precursor protein (APP) Protéines
amyloid beta precursor protein (app) Protéines
amyloid beta precursor protein (App) Protéines
amyloid beta (A4) precursor protein (App) Protéines
AAA Protéines
aaa Protéines
ABETA Protéines
abeta Protéines
Abeta Protéines
ABPP Protéines
abpp Protéines
Abpp Protéines
AD1 Protéines
ad1 Protéines
Adap Protéines
Ag Protéines
APPI Protéines
appi Protéines
betaApp Protéines
CTFgamma Protéines
ctfgamma Protéines
CVAP Protéines
cvap Protéines
Cvap Protéines
E030013M08Rik Protéines
PN-II Protéines
PN2 Protéines
pn2 Protéines