Calmodulin 1 Protéines
(Calmodulin 1 (Calm1))
This gene encodes a member of the EF-hand calcium-binding protein family. It is one of three genes which encode an identical calcium binding protein which is one of the four subunits of phosphorylase kinase. Two pseudogenes have been identified on chromosome 7 and X. Multiple transcript variants encoding different isoforms have been found for this gene.[provided by RefSeq, Oct 2009].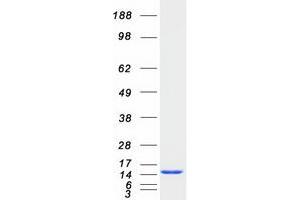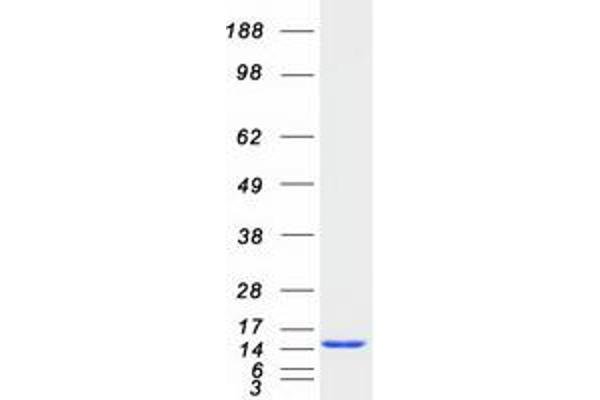 Calmodulin 1 Protein (Calm1) (Myc-DYKDDDDK Tag)

(ABIN2713050)
Calm1 Origine: Humain Hôte: HEK-293 Cells Recombinant > 80 % as determined by SDS-PAGE and Coomassie blue staining AbP, STD
Calmodulin 1 Protéines par Grade
On trouve ici des Calmodulin 1 Protéines avec un Grade spécifique. Les Grade mentionnés ici sont quelques-uns de ceux qui sont disponibles. Un clic sur le lien correspondant permet d'accéder aux produits
Calmodulin 1 Protéines par Origin
Trouvez Calmodulin 1 Protéines pour une variété d'espèces telles que anti-Human Calmodulin 1, anti-Rat Calmodulin 1, anti-Chicken Calmodulin 1. Les espèces listées ci-dessous sont parmi celles disponibles. Cliquez sur un lien pour accéder aux produits correspondants.
Calmodulin 1 Protéines par Source
On trouve ici des Calmodulin 1 Protéines avec un Source spécifique. Les Source mentionnés ici sont quelques-uns de ceux qui sont disponibles. Un clic sur le lien correspondant permet d'accéder aux produits
Calmodulin 1 Protéines par Type Proteine
On trouve ici des Calmodulin 1 Protéines avec un Type Proteine spécifique. Les Type Proteine mentionnés ici sont quelques-uns de ceux qui sont disponibles. Un clic sur le lien correspondant permet d'accéder aux produits
Calmodulin 1 Protéines par Application
Trouver Calmodulin 1 Protéines validé pour une application spécifique telle que ELISA, WB, SDS, Imm. Certaines des applications disponibles sont énumérées ci-dessous. Cliquez sur un lien pour accéder aux produits correspondants
Calmodulin 1 Protéines fréquemment utilisés
Pseudonymes pour Calmodulin 1 Protéines
calmodulin 1 (Calm1) Protéines
calmodulin 2 (Calm2) Protéines
calmodulin 1 (CALM1) Protéines
calmodulin 1 (phosphorylase kinase, delta) L homeolog (calm1.L) Protéines
Calmodulin (Cam) Protéines
3909 Protéines
AI256814 Protéines
AI327027 Protéines
AI461935 Protéines
AL024000 Protéines
anon-EST:Posey59 Protéines
Cal Protéines
Cal49A Protéines
CalA Protéines
Calm Protéines
calm1 Protéines
calm2-a Protéines
calm2-b Protéines
calm2a Protéines
CALML2 Protéines
calml2 Protéines
CaM Protéines
caM Protéines
CAM Protéines
cam Protéines
Cam1 Protéines
CaMI Protéines
CAMI Protéines
cami Protéines
CG8472 Protéines
CPVT4 Protéines
D-CaM Protéines
dCaM Protéines
DD132 Protéines
dd132 Protéines
DmCalm Protéines
DmCaM Protéines
Dmel\CG8472 Protéines
l(2)03909 Protéines
l(2)3909 Protéines
lincRNA.S2634 Protéines
LQT14 Protéines
PHKD Protéines