CHST9 Kits ELISA
(Carbohydrate (N-Acetylgalactosamine 4-0) Sulfotransferase 9 (CHST9))
The protein encoded by this gene belongs to the sulfotransferase 2 family. It is localized to the golgi membrane, and catalyzes the transfer of sulfate to position 4 of non-reducing N-acetylgalactosamine (GalNAc) residues in both N-glycans and O-glycans. Sulfate groups on carbohydrates confer highly specific functions to glycoproteins, glycolipids, and proteoglycans, and are critical for cell-cell interaction, signal transduction, and embryonic development. Alternatively spliced transcript variants have been described for this gene. [provided by RefSeq, Aug 2011].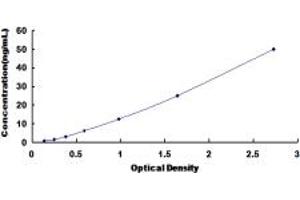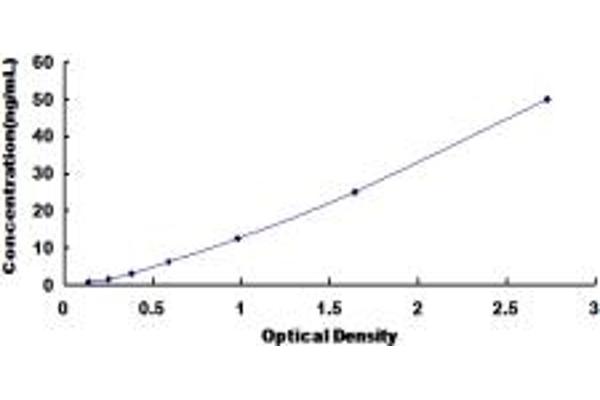 CHST9 Kit ELISA

(ABIN6954328)
CHST9 Reactivité: Humain Colorimetric Sandwich ELISA 0.78 ng/mL - 50 ng/mL Plasma, Serum, Tissue Homogenate
CHST9 Kits ELISA par Réactivité
Trouvez CHST9 Kits ELISA pour une variété d'espèces telles que anti-Human CHST9. Les espèces listées ci-dessous sont parmi celles disponibles. Cliquez sur un lien pour accéder aux produits correspondants.
CHST9 Kits ELISA par Méthode de détection
On trouve ici des CHST9 Kits ELISA avec un Méthode de détection spécifique. Les Méthode de détection mentionnés ici sont quelques-uns de ceux qui sont disponibles. Un clic sur le lien correspondant permet d'accéder aux produits
CHST9 Kits ELISA par Analytical Method
On trouve ici des CHST9 Kits ELISA avec un Analytical Method spécifique. Les Analytical Method mentionnés ici sont quelques-uns de ceux qui sont disponibles. Un clic sur le lien correspondant permet d'accéder aux produits
CHST9 Kits ELISA par Type de méthode
On trouve ici des CHST9 Kits ELISA avec un Type de méthode spécifique. Les Type de méthode mentionnés ici sont quelques-uns de ceux qui sont disponibles. Un clic sur le lien correspondant permet d'accéder aux produits
CHST9 Kits ELISA par Sample
On trouve ici des CHST9 Kits ELISA avec un Sample spécifique. Les Sample mentionnés ici sont quelques-uns de ceux qui sont disponibles. Un clic sur le lien correspondant permet d'accéder aux produits
CHST9 Kits ELISA fréquemment utilisés
Produit
Reactivity
Analytical Method
Validations
N° du produit
Quantité
Fiche technique
Reactivity Human
Analytical Method Quantitative Sandwich ELISA
N° du produit ABIN6954328
Quantité 96 tests
Pseudonymes pour CHST9 Kits ELISA
carbohydrate sulfotransferase 9 (Chst9) Kits ELISA
carbohydrate sulfotransferase 9 (CHST9) Kits ELISA
carbohydrate (N-acetylgalactosamine 4-0) sulfotransferase 9 (CHST9) Kits ELISA
carbohydrate (N-acetylgalactosamine 4-0) sulfotransferase 9 (Chst9) Kits ELISA
5430438D01Rik Kits ELISA
GALNAC4ST-2 Kits ELISA