CLOCK Kits ELISA
(Clock Homolog (Mouse) (CLOCK))
This gene product regulates circadian rhythm and metabolism. The protein encodes a transcription factor of the basic helix-loop-helix (bHLH) family and a DNA binding histone acetyltransferase. Polymorphisms in this gene may be associated with behavioral changes in certain populations and with obesity and metabolic syndrome. Alternative splicing results in multiple transcript variants. [provided by RefSeq, Jun 2012].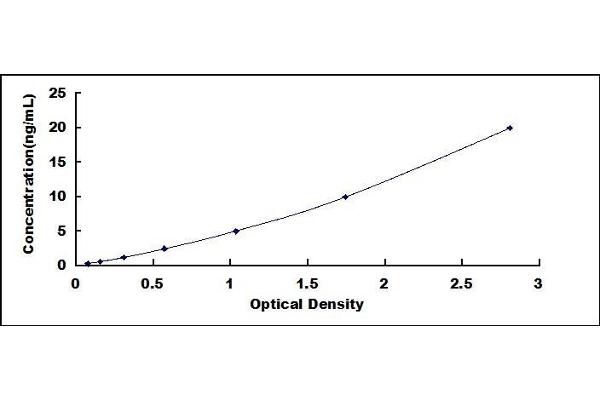 CLOCK Kit ELISA

(ABIN6954841)
CLOCK Reactivité: Humain Colorimetric Sandwich ELISA 0.31 ng/mL - 20 ng/mL Cell Lysate, Tissue Homogenate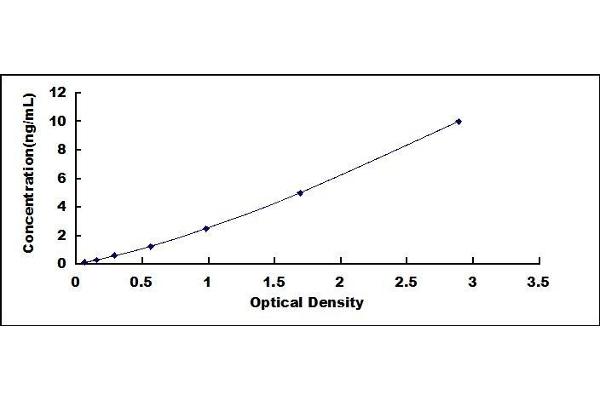 CLOCK Kit ELISA

(ABIN6954842)
CLOCK Reactivité: Souris Colorimetric Sandwich ELISA 0.15 ng/mL - 10 ng/mL Cell Culture Supernatant, Cell Lysate, Tissue Homogenate
CLOCK Kits ELISA par Réactivité
Trouvez CLOCK Kits ELISA pour une variété d'espèces telles que anti-Human CLOCK, anti-Mouse CLOCK, anti-Rat CLOCK. Les espèces listées ci-dessous sont parmi celles disponibles. Cliquez sur un lien pour accéder aux produits correspondants.
CLOCK Kits ELISA par Méthode de détection
On trouve ici des CLOCK Kits ELISA avec un Méthode de détection spécifique. Les Méthode de détection mentionnés ici sont quelques-uns de ceux qui sont disponibles. Un clic sur le lien correspondant permet d'accéder aux produits
CLOCK Kits ELISA par Analytical Method
On trouve ici des CLOCK Kits ELISA avec un Analytical Method spécifique. Les Analytical Method mentionnés ici sont quelques-uns de ceux qui sont disponibles. Un clic sur le lien correspondant permet d'accéder aux produits
CLOCK Kits ELISA par Type de méthode
On trouve ici des CLOCK Kits ELISA avec un Type de méthode spécifique. Les Type de méthode mentionnés ici sont quelques-uns de ceux qui sont disponibles. Un clic sur le lien correspondant permet d'accéder aux produits
CLOCK Kits ELISA par Sample
On trouve ici des CLOCK Kits ELISA avec un Sample spécifique. Les Sample mentionnés ici sont quelques-uns de ceux qui sont disponibles. Un clic sur le lien correspondant permet d'accéder aux produits
CLOCK Kits ELISA fréquemment utilisés
Produit
Reactivity
Analytical Method
Validations
N° du produit
Quantité
Fiche technique
Reactivity Human
Analytical Method Quantitative Sandwich ELISA
N° du produit ABIN6954841
Quantité 96 tests
Reactivity Mouse
Analytical Method Quantitative Sandwich ELISA
N° du produit ABIN6954842
Quantité 96 tests
Reactivity Human, Mouse, Rat
Analytical Method Qualitative Cell ELISA
N° du produit ABIN5648169
Quantité 96 tests
Pseudonymes pour CLOCK Kits ELISA
Clock (Clk) Kits ELISA
clock circadian regulator (CLOCK) Kits ELISA
clock homolog (mouse) (CLOCK) Kits ELISA
clock circadian regulator (clock) Kits ELISA
clock circadian regulator a (clocka) Kits ELISA
circadian locomotor output cycles kaput (Clock) Kits ELISA
clock circadian regulator (Clock) Kits ELISA
clock circadian regulator L homeolog (clock.L) Kits ELISA
5330400M04Rik Kits ELISA
bHLHe8 Kits ELISA
bHLHe10 Kits ELISA
CG7391 Kits ELISA
CLK Kits ELISA
clk Kits ELISA
CLOCK Kits ELISA
clock Kits ELISA
dClck Kits ELISA
dCLK Kits ELISA
dClk Kits ELISA
dclk Kits ELISA
dCLK/JRK Kits ELISA
dCLOCK Kits ELISA
dClock Kits ELISA
Dmel\\CG7391 Kits ELISA
Jerk Kits ELISA
Jrk Kits ELISA
jrk Kits ELISA
KAT13D Kits ELISA
mKIAA0334 Kits ELISA
PAS1 Kits ELISA
Xclk Kits ELISA
XClock Kits ELISA
zCLOCK1 Kits ELISA
zfCLOCK1 Kits ELISA