GPIHBP1 Kits ELISA
(Glycosylphosphatidylinositol Anchored High Density Lipoprotein Binding Protein 1 (GPIHBP1))
Dietary fats are packaged by intestine into triglyceride-rich lipoproteins called chylomicrons. The triglycerides in chylomicrons are hydrolyzed by lipoprotein lipase (LPL: MIM 609708) along the luminal surface of capillaries, mainly in heart, skeletal muscle, and adipose tissue. GPIHBP1 is a capillary endothelial cell protein that provides a platform for LPL-mediated processing of chylomicrons (Beigneux et al., 2007 [PubMed 17403372]).[supplied by OMIM, Apr 2009].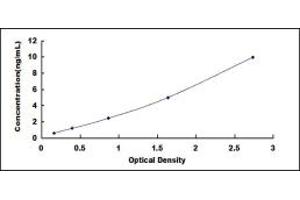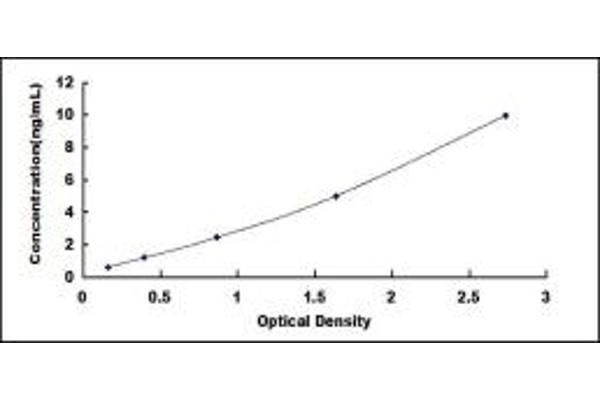 Glycosylphosphatidylinositol Anchored High Density Lipoprotein Binding Protein 1 (GPIHBP1) ELISA Kit

(ABIN6956266)
GPIHBP1 Reactivité: Humain Colorimetric Sandwich ELISA 0.62 ng/mL - 10 ng/mL Cell Lysate, Tissue Homogenate
GPIHBP1 Kits ELISA par Réactivité
Trouvez GPIHBP1 Kits ELISA pour une variété d'espèces telles que anti-Human GPIHBP1, anti-Mouse GPIHBP1, anti-Rat GPIHBP1. Les espèces listées ci-dessous sont parmi celles disponibles. Cliquez sur un lien pour accéder aux produits correspondants.
GPIHBP1 Kits ELISA par Méthode de détection
On trouve ici des GPIHBP1 Kits ELISA avec un Méthode de détection spécifique. Les Méthode de détection mentionnés ici sont quelques-uns de ceux qui sont disponibles. Un clic sur le lien correspondant permet d'accéder aux produits
GPIHBP1 Kits ELISA par Analytical Method
On trouve ici des GPIHBP1 Kits ELISA avec un Analytical Method spécifique. Les Analytical Method mentionnés ici sont quelques-uns de ceux qui sont disponibles. Un clic sur le lien correspondant permet d'accéder aux produits
GPIHBP1 Kits ELISA par Type de méthode
On trouve ici des GPIHBP1 Kits ELISA avec un Type de méthode spécifique. Les Type de méthode mentionnés ici sont quelques-uns de ceux qui sont disponibles. Un clic sur le lien correspondant permet d'accéder aux produits
GPIHBP1 Kits ELISA par Sample
On trouve ici des GPIHBP1 Kits ELISA avec un Sample spécifique. Les Sample mentionnés ici sont quelques-uns de ceux qui sont disponibles. Un clic sur le lien correspondant permet d'accéder aux produits
GPIHBP1 Kits ELISA fréquemment utilisés
Produit
Reactivity
Analytical Method
Validations
N° du produit
Quantité
Fiche technique
Reactivity Mouse
Analytical Method
N° du produit ABIN1135255
Quantité 96 tests
Pseudonymes pour GPIHBP1 Kits ELISA
glycosylphosphatidylinositol anchored high density lipoprotein binding protein 1 (Gpihbp1) Kits ELISA
glycosylphosphatidylinositol anchored high density lipoprotein binding protein 1 (GPIHBP1) Kits ELISA
GPI-anchored HDL-binding protein 1 (Gpihbp1) Kits ELISA
1110002J19Rik Kits ELISA
GPI-HBP1 Kits ELISA
GPIHBP1 Kits ELISA
RGD1564237 Kits ELISA