IQGAP1 Protéines
(IQ Motif Containing GTPase Activating Protein 1 (IQGAP1))
This gene encodes a member of the IQGAP family. The protein contains four IQ domains, one calponin homology domain, one Ras-GAP domain and one WW domain. It interacts with components of the cytoskeleton, with cell adhesion molecules, and with several signaling molecules to regulate cell morphology and motility. Expression of the protein is upregulated by gene amplification in two gastric cancer cell lines. [provided by RefSeq, Jul 2008].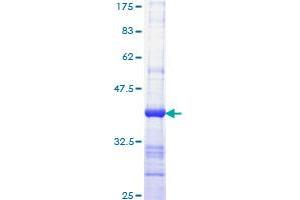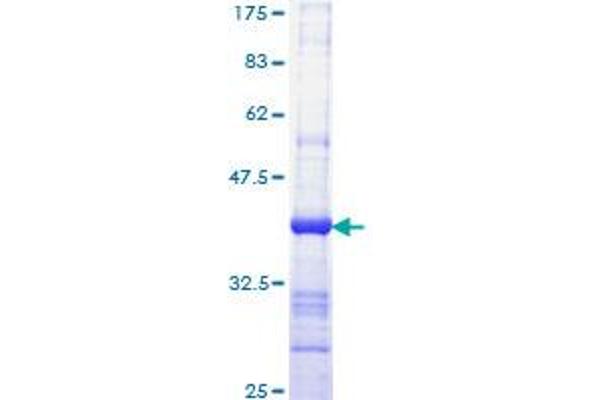 IQGAP1 Protein (AA 611-710) (GST tag)

(ABIN1308044)
IQGAP1 Origine: Humain Hôte: Wheat germ Recombinant AP, AA, ELISA, WB
IQGAP1 Protéines par Origin
Trouvez IQGAP1 Protéines pour une variété d'espèces telles que anti-Human IQGAP1, anti-Mouse IQGAP1. Les espèces listées ci-dessous sont parmi celles disponibles. Cliquez sur un lien pour accéder aux produits correspondants.
IQGAP1 Protéines par Source
On trouve ici des IQGAP1 Protéines avec un Source spécifique. Les Source mentionnés ici sont quelques-uns de ceux qui sont disponibles. Un clic sur le lien correspondant permet d'accéder aux produits
IQGAP1 Protéines par Type Proteine
On trouve ici des IQGAP1 Protéines avec un Type Proteine spécifique. Les Type Proteine mentionnés ici sont quelques-uns de ceux qui sont disponibles. Un clic sur le lien correspondant permet d'accéder aux produits
IQGAP1 Protéines par Application
Trouver IQGAP1 Protéines validé pour une application spécifique telle que WB, AP, AA, ELISA. Certaines des applications disponibles sont énumérées ci-dessous. Cliquez sur un lien pour accéder aux produits correspondants
IQGAP1 Protéines fréquemment utilisés
Produit
Reactivity
Source
Validations
N° du produit
Quantité
Fiche technique
Reactivity Human
Source Wheat germ
N° du produit ABIN1308044
Quantité 10 μg
Reactivity Mouse
Source Escherichia coli (E. coli)
N° du produit ABIN7406896
Quantité 100 μg
Pseudonymes pour IQGAP1 Protéines
IQ motif containing GTPase activating protein 1 (IQGAP1) Protéines
IQ motif containing GTPase activating protein 1 (Iqgap1) Protéines
AA682088 Protéines
D7Ertd237e Protéines
D7Ertd257e Protéines
HUMORFA01 Protéines
mKIAA0051 Protéines
p195 Protéines
SAR1 Protéines