MYH1 Protéines
(Myosin Heavy Chain 1, Skeletal Muscle, Adult (MYH1))
Myosin is a major contractile protein which converts chemical energy into mechanical energy through the hydrolysis of ATP. Myosin is a hexameric protein composed of a pair of myosin heavy chains (MYH) and two pairs of nonidentical light chains. Myosin heavy chains are encoded by a multigene family. In mammals at least 10 different myosin heavy chain (MYH) isoforms have been described from striated, smooth, and nonmuscle cells. These isoforms show expression that is spatially and temporally regulated during development. [provided by RefSeq, Jul 2008].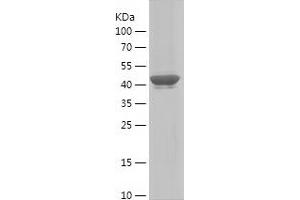 MYH1 Protein (AA 449-651) (IF2DI tag)

(ABIN7124057)
MYH1 Origine: Humain Hôte: Escherichia coli (E. coli) Recombinant Greater than 95 % by SDS-PAGE gel analyses ELISA, WB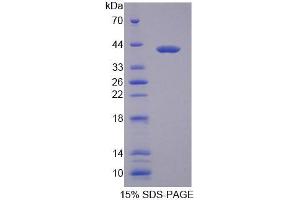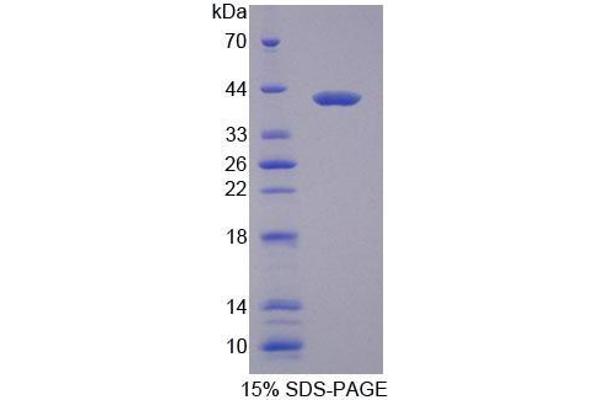 MYH1 Protéine

(ABIN3010799)
MYH1 Origine: Souris Hôte: Escherichia coli (E. coli) Recombinant > 95 % ELISA, IP, SDS, WB
MYH1 Protéines par Origin
Trouvez MYH1 Protéines pour une variété d'espèces telles que anti-Mouse MYH1, anti-Human MYH1. Les espèces listées ci-dessous sont parmi celles disponibles. Cliquez sur un lien pour accéder aux produits correspondants.
MYH1 Protéines par Source
On trouve ici des MYH1 Protéines avec un Source spécifique. Les Source mentionnés ici sont quelques-uns de ceux qui sont disponibles. Un clic sur le lien correspondant permet d'accéder aux produits
MYH1 Protéines par Type Proteine
On trouve ici des MYH1 Protéines avec un Type Proteine spécifique. Les Type Proteine mentionnés ici sont quelques-uns de ceux qui sont disponibles. Un clic sur le lien correspondant permet d'accéder aux produits
MYH1 Protéines par Application
Trouver MYH1 Protéines validé pour une application spécifique telle que WB, SDS, Imm, PC. Certaines des applications disponibles sont énumérées ci-dessous. Cliquez sur un lien pour accéder aux produits correspondants
MYH1 Protéines fréquemment utilisés
Produit
Reactivity
Source
Validations
N° du produit
Quantité
Fiche technique
Reactivity Human
Source Escherichia coli (E. coli)
N° du produit ABIN7124057
Quantité 50 μg
Reactivity Mouse
Source Escherichia coli (E. coli)
N° du produit ABIN3010799
Quantité 100 μg
Reactivity Mouse
Source Escherichia coli (E. coli)
N° du produit ABIN7411249
Quantité 100 μg
Reactivity Human
Source Escherichia coli (E. coli)
N° du produit ABIN7391930
Quantité 100 μg
Reactivity Mouse
Source Escherichia coli (E. coli)
N° du produit ABIN7391933
Quantité 100 μg
Pseudonymes pour MYH1 Protéines
myosin, heavy chain 1E, skeletal muscle (MYH1E) Protéines
myosin, heavy polypeptide 1, skeletal muscle, adult (Myh1) Protéines
myosin heavy chain 1 (Myh1) Protéines
myosin heavy chain 1 (MYH1) Protéines
myosin, heavy chain 1, skeletal muscle, adult (MYH1) Protéines
myosin-8 (LOC100303760) Protéines
myosin-1 (LOC100726730) Protéines
myosin type I (myo1) Protéines
A530084A17Rik Protéines
adult Protéines
IId Protéines
IId/x Protéines
MdMs Protéines
MHC-2X/D Protéines
MHC2X/D Protéines
MYH1 Protéines
MYH6 Protéines
MYHa Protéines
MYHC Protéines
MYHC-2d Protéines
MyHC-2x Protéines
MYHC-2X Protéines
MyHC-2X/D Protéines
MyHC-IId/x Protéines
MYHC-IIX Protéines
MyHC-IIx/d Protéines
Myhs-f Protéines
Myhs-f2 Protéines
MYHSA1 Protéines
Myhsf2 Protéines
myosin Protéines