NDUFAF2 Protéines
(NADH Dehydrogenase (Ubiquinone) 1 alpha Subcomplex, Assembly Factor 2 (NDUFAF2))
NADH transfer of electrons from NADH to ubiquinone (coenzyme Q) in the first step of the mitochondrial respiratory chain, resulting in the translocation of protons across the inner mitochondrial membrane. This gene encodes a complex I assembly factor. Mutations in this gene cause progressive encephalopathy resulting from mitochondrial complex I deficiency. [provided by RefSeq, Jul 2008].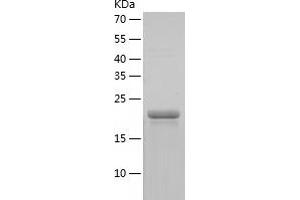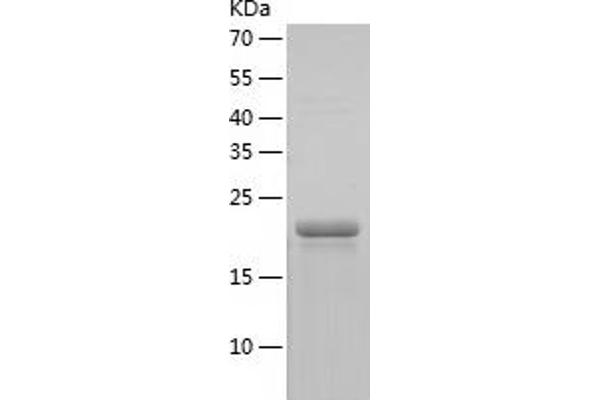 NDUFAF2 Protein (AA 1-169) (His tag)

(ABIN7124105)
NDUFAF2 Origine: Humain Hôte: Escherichia coli (E. coli) Recombinant Greater than 95 % by SDS-PAGE gel analyses ELISA, WB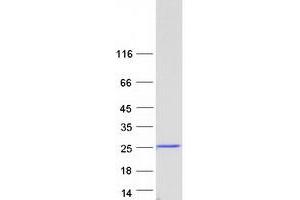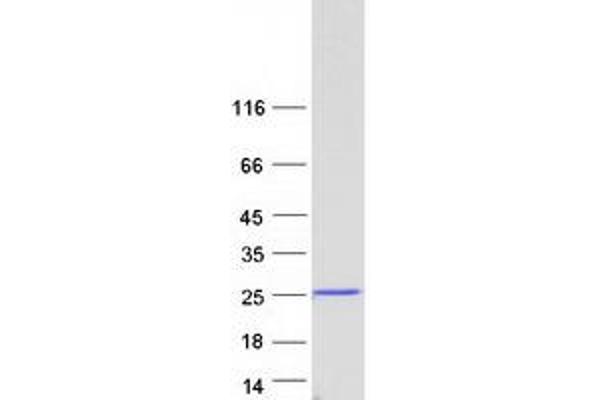 NDUFAF2 Protein (Myc-DYKDDDDK Tag)

(ABIN2726016)
NDUFAF2 Origine: Humain Hôte: HEK-293 Cells Recombinant > 80 % as determined by SDS-PAGE and Coomassie blue staining AbP, STD
NDUFAF2 Protéines par Origin
Trouvez NDUFAF2 Protéines pour une variété d'espèces telles que anti-Human NDUFAF2. Les espèces listées ci-dessous sont parmi celles disponibles. Cliquez sur un lien pour accéder aux produits correspondants.
NDUFAF2 Protéines par Source
On trouve ici des NDUFAF2 Protéines avec un Source spécifique. Les Source mentionnés ici sont quelques-uns de ceux qui sont disponibles. Un clic sur le lien correspondant permet d'accéder aux produits
NDUFAF2 Protéines par Type Proteine
On trouve ici des NDUFAF2 Protéines avec un Type Proteine spécifique. Les Type Proteine mentionnés ici sont quelques-uns de ceux qui sont disponibles. Un clic sur le lien correspondant permet d'accéder aux produits
NDUFAF2 Protéines par Application
Trouver NDUFAF2 Protéines validé pour une application spécifique telle que AbP, ELISA, SDS, STD. Certaines des applications disponibles sont énumérées ci-dessous. Cliquez sur un lien pour accéder aux produits correspondants
NDUFAF2 Protéines fréquemment utilisés
Produit
Reactivity
Source
Validations
N° du produit
Quantité
Fiche technique
Reactivity Human
Source Escherichia coli (E. coli)
N° du produit ABIN7124105
Quantité 50 μg
Reactivity Human
Source HEK-293 Cells
N° du produit ABIN2726016
Quantité 20 μg
Reactivity Human
Source Escherichia coli (E. coli)
N° du produit ABIN2130592
Quantité 50 μg
Pseudonymes pour NDUFAF2 Protéines
NADH:ubiquinone oxidoreductase complex assembly factor 2 (NDUFAF2) Protéines
NADH:ubiquinone oxidoreductase complex assembly factor 2 (Ndufaf2) Protéines
NADH:ubiquinone oxidoreductase complex assembly factor 2 L homeolog (ndufaf2.L) Protéines
NADH dehydrogenase (ubiquinone) complex I, assembly factor 2 (ndufaf2) Protéines
NADH dehydrogenase (ubiquinone) 1 alpha subcomplex, assembly factor 2 (ndufaf2) Protéines
NADH dehydrogenase (ubiquinone) 1 alpha subcomplex, assembly factor 2 (Ndufaf2) Protéines
1810058I14Rik Protéines
B17.2L Protéines
C86051 Protéines
mimitin Protéines
MMTN Protéines
NDUFA12L Protéines
Ndufa12l Protéines
ndufa12l Protéines
NDUFAF2 Protéines
RGD1560158 Protéines
zgc:101036 Protéines