OPRL1 Kits ELISA
(Opiate Receptor-Like 1 (OPRL1))
The protein encoded by this gene is a G protein-coupled receptor whose expression can be induced by phytohemagglutinin. The encoded integral membrane protein is a receptor for the 17 aa neuropeptide nociceptin/orphanin FQ. This gene may be involved in the regulation of numerous brain activities, particularly instinctive and emotional behaviors. A promoter for this gene also functions as a promoter for another gene, regulator of G-protein signalling 19 (RGS19), located on the opposite strand. Three transcript variants encoding the same protein have been found for this gene. [provided by RefSeq, Jan 2011].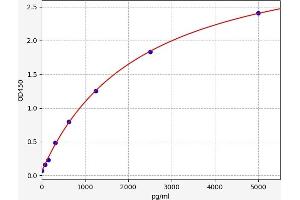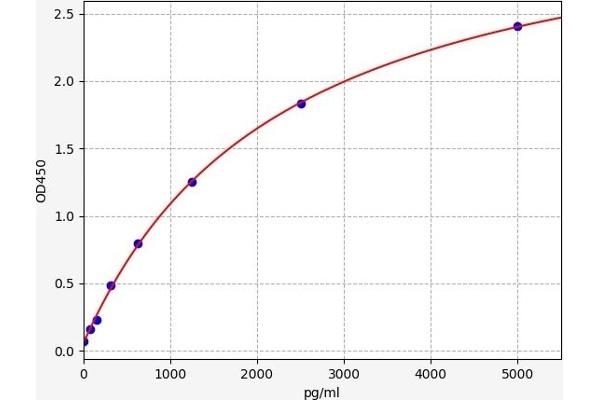 OPRL1 Kit ELISA

(ABIN6969062)
OPRL1 Reactivité: Humain Colorimetric Sandwich ELISA 78.125 pg/mL - 5000 pg/mL Plasma, Serum, Tissue Homogenate
OPRL1 Kits ELISA par Réactivité
Trouvez OPRL1 Kits ELISA pour une variété d'espèces telles que anti-Human OPRL1, anti-Mouse OPRL1, anti-Pig OPRL1. Les espèces listées ci-dessous sont parmi celles disponibles. Cliquez sur un lien pour accéder aux produits correspondants.
OPRL1 Kits ELISA par Méthode de détection
On trouve ici des OPRL1 Kits ELISA avec un Méthode de détection spécifique. Les Méthode de détection mentionnés ici sont quelques-uns de ceux qui sont disponibles. Un clic sur le lien correspondant permet d'accéder aux produits
OPRL1 Kits ELISA par Analytical Method
On trouve ici des OPRL1 Kits ELISA avec un Analytical Method spécifique. Les Analytical Method mentionnés ici sont quelques-uns de ceux qui sont disponibles. Un clic sur le lien correspondant permet d'accéder aux produits
OPRL1 Kits ELISA par Type de méthode
On trouve ici des OPRL1 Kits ELISA avec un Type de méthode spécifique. Les Type de méthode mentionnés ici sont quelques-uns de ceux qui sont disponibles. Un clic sur le lien correspondant permet d'accéder aux produits
OPRL1 Kits ELISA par Sample
On trouve ici des OPRL1 Kits ELISA avec un Sample spécifique. Les Sample mentionnés ici sont quelques-uns de ceux qui sont disponibles. Un clic sur le lien correspondant permet d'accéder aux produits
OPRL1 Kits ELISA fréquemment utilisés
Produit
Reactivity
Analytical Method
Validations
N° du produit
Quantité
Fiche technique
Reactivity Human
Analytical Method Quantitative Sandwich ELISA
N° du produit ABIN6969062
Quantité 96 tests
Reactivity Mouse
Analytical Method Quantitative Sandwich ELISA
N° du produit ABIN6220269
Quantité 96 tests
Reactivity Rat
Analytical Method Quantitative Sandwich ELISA
N° du produit ABIN5593906
Quantité 96 tests
Reactivity Pig
Analytical Method
N° du produit ABIN1145225
Quantité 96 tests
Pseudonymes pour OPRL1 Kits ELISA
opioid related nociceptin receptor 1 (OPRL1) Kits ELISA
opiate receptor-like 1 L homeolog (oprl1.L) Kits ELISA
opiate receptor-like 1 (LOC100335303) Kits ELISA
opioid related nociceptin receptor 1 (Oprl1) Kits ELISA
opioid receptor-like 1 (Oprl1) Kits ELISA
KOR-3 Kits ELISA
KOR3 Kits ELISA
LC132 Kits ELISA
MOR-C Kits ELISA
morc Kits ELISA
NOCIR Kits ELISA
OFQR Kits ELISA
OOR Kits ELISA
Oprl Kits ELISA
OPRL Kits ELISA
ORGC Kits ELISA
ORL1 Kits ELISA
XOR1 Kits ELISA