BMPR1B Protéines
(Bone Morphogenetic Protein Receptor, Type IB (BMPR1B))
This gene encodes a member of the bone morphogenetic protein (BMP) receptor family of transmembrane serine/threonine kinases. The ligands of this receptor are BMPs, which are members of the TGF-beta superfamily. BMPs are involved in endochondral bone formation and embryogenesis. These proteins transduce their signals through the formation of heteromeric complexes of 2 different types of serine (threonine) kinase receptors: type I receptors of about 50-55 kD and type II receptors of about 70-80 kD. Type II receptors bind ligands in the absence of type I receptors, but they require their respective type I receptors for signaling, whereas type I receptors require their respective type II receptors for ligand binding. Mutations in this gene have been associated with primary pulmonary hypertension. Several transcript variants encoding two different isoforms have been found for this gene. [provided by RefSeq, Feb 2012].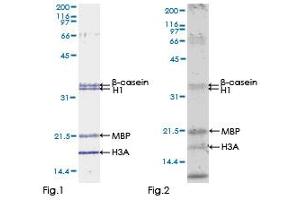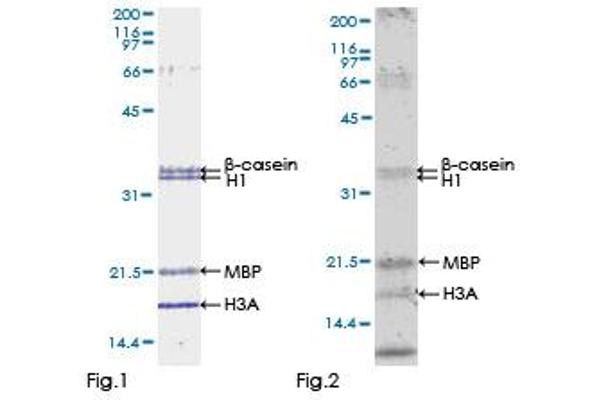 BMPR1B Protein (AA 14-502) (GST tag)

(ABIN1346785)
BMPR1B Origine: Humain Hôte: Wheat germ Recombinant WB, ELISA, AP, AA, KAA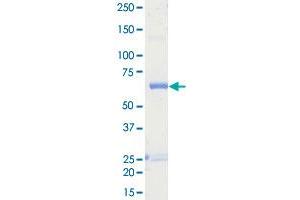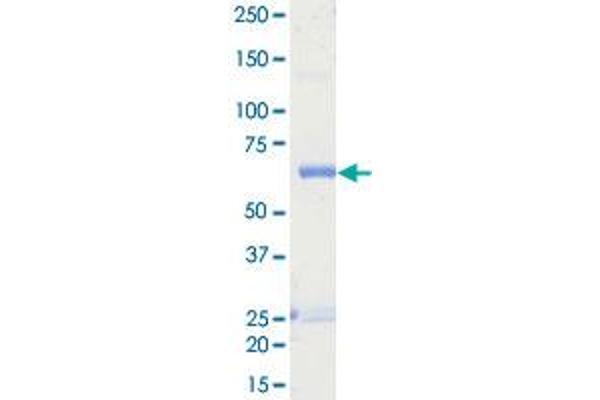 BMPR1B Protein (AA 149-502) (GST tag)

(ABIN5569802)
BMPR1B Origine: Humain Hôte: Cellules d'insectes Recombinant SDS, Func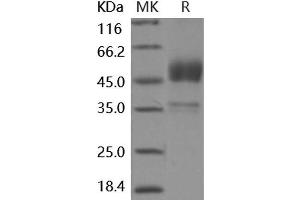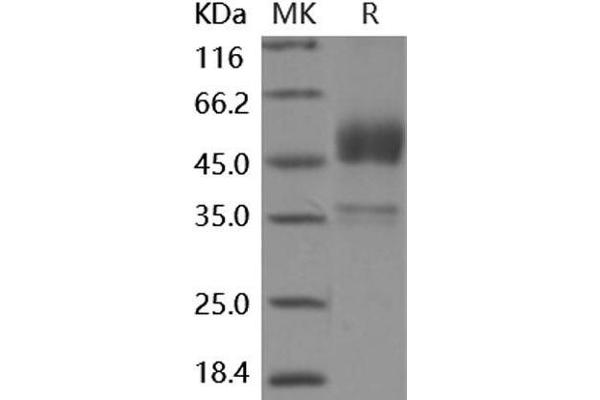 BMPR1B Protein (Fc Tag)

(ABIN7194418)
BMPR1B Origine: Souris Hôte: HEK-293 Cells Recombinant > (88.3+9.9) % as determined by SDS-PAGE
BMPR1B Protéines par Grade
On trouve ici des BMPR1B Protéines avec un Grade spécifique. Les Grade mentionnés ici sont quelques-uns de ceux qui sont disponibles. Un clic sur le lien correspondant permet d'accéder aux produits
BMPR1B Protéines par Origin
Trouvez BMPR1B Protéines pour une variété d'espèces telles que anti-Human BMPR1B, anti-Mouse BMPR1B. Les espèces listées ci-dessous sont parmi celles disponibles. Cliquez sur un lien pour accéder aux produits correspondants.
BMPR1B Protéines par Source
On trouve ici des BMPR1B Protéines avec un Source spécifique. Les Source mentionnés ici sont quelques-uns de ceux qui sont disponibles. Un clic sur le lien correspondant permet d'accéder aux produits
BMPR1B Protéines par Type Proteine
On trouve ici des BMPR1B Protéines avec un Type Proteine spécifique. Les Type Proteine mentionnés ici sont quelques-uns de ceux qui sont disponibles. Un clic sur le lien correspondant permet d'accéder aux produits
BMPR1B Protéines par Application
Trouver BMPR1B Protéines validé pour une application spécifique telle que WB, ELISA, SDS, Crys. Certaines des applications disponibles sont énumérées ci-dessous. Cliquez sur un lien pour accéder aux produits correspondants
BMPR1B Protéines par Activité biologique
On trouve ici des BMPR1B Protéines avec un Activité biologique spécifique. Les Activité biologique mentionnés ici sont quelques-uns de ceux qui sont disponibles. Un clic sur le lien correspondant permet d'accéder aux produits
BMPR1B Protéines fréquemment utilisés
Pseudonymes pour BMPR1B Protéines
bone morphogenetic protein receptor type 1B (BMPR1B) Protéines
bone morphogenetic protein receptor type 1B (bmpr1b) Protéines
bone morphogenetic protein receptor, type IBb (bmpr1bb) Protéines
bone morphogenetic protein receptor, type 1B (Bmpr1b) Protéines
bone morphogenetic protein receptor, type IBa (bmpr1ba) Protéines
bone morphogenetic protein receptor type 1B (Bmpr1b) Protéines
Acvrlk6 Protéines
AI385617 Protéines
alk-6 Protéines
ALK-6 Protéines
ALK6 Protéines
alk6 Protéines
Alk6 Protéines
alk6b Protéines
alk6tr Protéines
AV355320 Protéines
BMP15 Protéines
BMPR-1B Protéines
BMPR-IB Protéines
BMPR1B Protéines
bmpr1b Protéines
BMPRIB Protéines
BR1b Protéines
cdw293 Protéines
CDw293 Protéines
CFK-43a Protéines
FecB Protéines
RPK-1 Protéines
SKR6 Protéines
zALK-6 Protéines
zgc:92220 Protéines
zgc:172219 Protéines