HAP1 Kits ELISA
(Huntingtin Associated Protein 1 (HAP1))
Huntington's disease (HD), a neurodegenerative disorder characterized by loss of striatal neurons, is caused by an expansion of a polyglutamine tract in the HD protein huntingtin. This gene encodes a protein that interacts with huntingtin, with two cytoskeletal proteins (dynactin and pericentriolar autoantigen protein 1), and with a hepatocyte growth factor-regulated tyrosine kinase substrate. The interactions with cytoskeletal proteins and a kinase substrate suggest a role for this protein in vesicular trafficking or organelle transport. Several alternatively spliced transcript variants encoding different isoforms have been described for this gene. [provided by RefSeq, Jul 2008].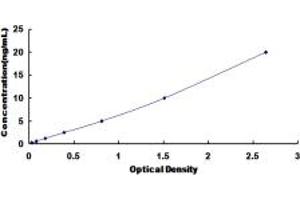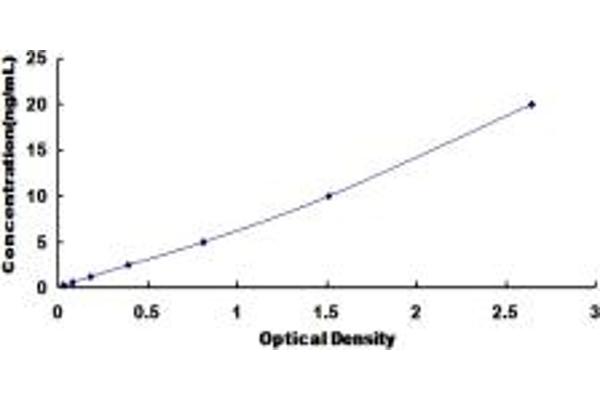 HAP1 Kit ELISA

(ABIN6956609)
HAP1 Reactivité: Humain Colorimetric Sandwich ELISA 0.31 ng/mL - 20 ng/mL Tissue Homogenate
HAP1 Kits ELISA par Réactivité
Trouvez HAP1 Kits ELISA pour une variété d'espèces telles que anti-Human HAP1. Les espèces listées ci-dessous sont parmi celles disponibles. Cliquez sur un lien pour accéder aux produits correspondants.
HAP1 Kits ELISA par Méthode de détection
On trouve ici des HAP1 Kits ELISA avec un Méthode de détection spécifique. Les Méthode de détection mentionnés ici sont quelques-uns de ceux qui sont disponibles. Un clic sur le lien correspondant permet d'accéder aux produits
HAP1 Kits ELISA par Analytical Method
On trouve ici des HAP1 Kits ELISA avec un Analytical Method spécifique. Les Analytical Method mentionnés ici sont quelques-uns de ceux qui sont disponibles. Un clic sur le lien correspondant permet d'accéder aux produits
HAP1 Kits ELISA par Type de méthode
On trouve ici des HAP1 Kits ELISA avec un Type de méthode spécifique. Les Type de méthode mentionnés ici sont quelques-uns de ceux qui sont disponibles. Un clic sur le lien correspondant permet d'accéder aux produits
HAP1 Kits ELISA par Sample
On trouve ici des HAP1 Kits ELISA avec un Sample spécifique. Les Sample mentionnés ici sont quelques-uns de ceux qui sont disponibles. Un clic sur le lien correspondant permet d'accéder aux produits
HAP1 Kits ELISA fréquemment utilisés
Produit
Reactivity
Analytical Method
Validations
N° du produit
Quantité
Fiche technique
Reactivity Human
Analytical Method Quantitative Sandwich ELISA
N° du produit ABIN6956609
Quantité 96 tests
Pseudonymes pour HAP1 Kits ELISA
huntingtin associated protein 1 (HAP1) Kits ELISA
huntingtin-associated protein 1 (Hap1) Kits ELISA
HAP-1 Kits ELISA
HAP1-A Kits ELISA
HAP1-B Kits ELISA
HAP2 Kits ELISA
hHLP1 Kits ELISA
HIP5 Kits ELISA
HLP Kits ELISA