Kv2.2 Kits ELISA
(Potassium Voltage-Gated Channel, Shab-Related Subfamily, Member 2 (KCNB2))
Voltage-gated potassium (Kv) channels represent the most complex class of voltage-gated ion channels from both functional and structural standpoints. Their diverse functions include regulating neurotransmitter release, heart rate, insulin secretion, neuronal excitability, epithelial electrolyte transport, smooth muscle contraction, and cell volume. Four sequence-related potassium channel genes - shaker, shaw, shab, and shal - have been identified in Drosophila, and each has been shown to have human homolog(s). This gene encodes a member of the potassium channel, voltage-gated, shab-related subfamily. This member is a delayed rectifier potassium channel. The gene is expressed in gastrointestinal smooth muscle cells. [provided by RefSeq, Jul 2008].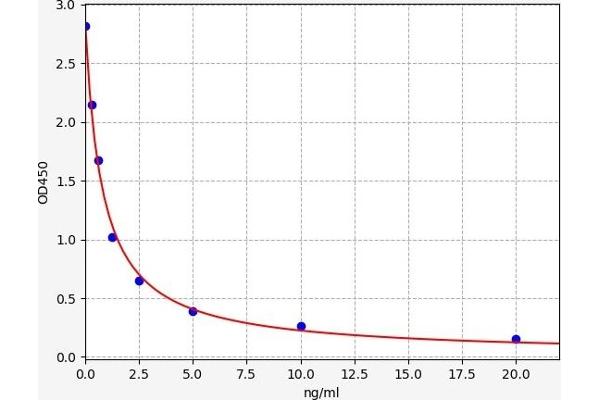 Kv2.2 Kit ELISA

(ABIN6969456)
KCNB2 Reactivité: Humain Colorimetric Competition ELISA 0.313 ng/mL - 20 ng/mL Plasma, Serum, Tissue Homogenate
Kv2.2 Kits ELISA par Réactivité
Trouvez Kv2.2 Kits ELISA pour une variété d'espèces telles que anti-Cow Kv2.2, anti-Dog Kv2.2, anti-Human Kv2.2. Les espèces listées ci-dessous sont parmi celles disponibles. Cliquez sur un lien pour accéder aux produits correspondants.
Kv2.2 Kits ELISA par Méthode de détection
On trouve ici des Kv2.2 Kits ELISA avec un Méthode de détection spécifique. Les Méthode de détection mentionnés ici sont quelques-uns de ceux qui sont disponibles. Un clic sur le lien correspondant permet d'accéder aux produits
Kv2.2 Kits ELISA par Analytical Method
On trouve ici des Kv2.2 Kits ELISA avec un Analytical Method spécifique. Les Analytical Method mentionnés ici sont quelques-uns de ceux qui sont disponibles. Un clic sur le lien correspondant permet d'accéder aux produits
Kv2.2 Kits ELISA par Type de méthode
On trouve ici des Kv2.2 Kits ELISA avec un Type de méthode spécifique. Les Type de méthode mentionnés ici sont quelques-uns de ceux qui sont disponibles. Un clic sur le lien correspondant permet d'accéder aux produits
Kv2.2 Kits ELISA par Sample
On trouve ici des Kv2.2 Kits ELISA avec un Sample spécifique. Les Sample mentionnés ici sont quelques-uns de ceux qui sont disponibles. Un clic sur le lien correspondant permet d'accéder aux produits
Kv2.2 Kits ELISA fréquemment utilisés
Produit
Reactivity
Analytical Method
Validations
N° du produit
Quantité
Fiche technique
Reactivity Human
Analytical Method Quantitative Competition ELISA
N° du produit ABIN6969456
Quantité 96 tests
Reactivity Mouse
Analytical Method Quantitative Sandwich ELISA
N° du produit ABIN6210722
Quantité 96 tests
Reactivity Rat
Analytical Method Quantitative Sandwich ELISA
N° du produit ABIN6210723
Quantité 96 tests
Reactivity Cow
Analytical Method
N° du produit ABIN1148855
Quantité 96 tests
Reactivity Dog
Analytical Method
N° du produit ABIN1148856
Quantité 96 tests
Pseudonymes pour Kv2.2 Kits ELISA
potassium voltage-gated channel subfamily B member 2 (KCNB2) Kits ELISA
potassium voltage-gated channel, Shab-related subfamily, member 2 (kcnb2) Kits ELISA
potassium voltage-gated channel subfamily B member 2 (LOC100051372) Kits ELISA
potassium channel, voltage gated Shab related subfamily B, member 2 (kcnb2) Kits ELISA
potassium voltage-gated channel subfamily B member 2 (Kcnb2) Kits ELISA
potassium voltage gated channel, Shab-related subfamily, member 2 (Kcnb2) Kits ELISA
potassium channel, voltage gated Shab related subfamily B, member 2 S homeolog (kcnb2.S) Kits ELISA
potassium voltage-gated channel, Shab-related subfamily, member 2 (KCNB2) Kits ELISA
9630047L19Rik Kits ELISA
BB130875 Kits ELISA
KCNB2 Kits ELISA
kcnb2 Kits ELISA
Kv2.2 Kits ELISA
KV2.2 Kits ELISA
si:ch211-193n21.1 Kits ELISA
XShab12 Kits ELISA