LETMD1 Kits ELISA
(LETM1 Domain Containing 1 (LETMD1))
This gene encodes a mitochondrial outer membrane protein. It has a potential role in tumorigenesis, which may result from negative regulation of the p53 tumor suppressor gene. Alternatively spliced transcript variants have been noted for this gene. [provided by RefSeq, Aug 2011].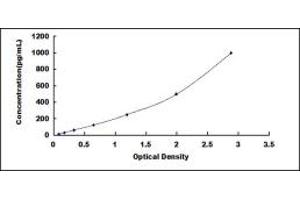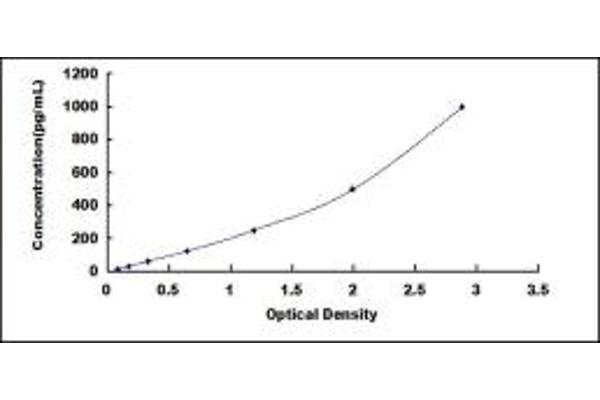 LETMD1 Kit ELISA

(ABIN6957443)
LETMD1 Reactivité: Humain Colorimetric Sandwich ELISA 15.62 pg/mL - 1000 pg/mL Plasma, Serum, Tissue Homogenate
LETMD1 Kits ELISA par Réactivité
Trouvez LETMD1 Kits ELISA pour une variété d'espèces telles que anti-Human LETMD1, anti-Mouse LETMD1. Les espèces listées ci-dessous sont parmi celles disponibles. Cliquez sur un lien pour accéder aux produits correspondants.
LETMD1 Kits ELISA par Méthode de détection
On trouve ici des LETMD1 Kits ELISA avec un Méthode de détection spécifique. Les Méthode de détection mentionnés ici sont quelques-uns de ceux qui sont disponibles. Un clic sur le lien correspondant permet d'accéder aux produits
LETMD1 Kits ELISA par Analytical Method
On trouve ici des LETMD1 Kits ELISA avec un Analytical Method spécifique. Les Analytical Method mentionnés ici sont quelques-uns de ceux qui sont disponibles. Un clic sur le lien correspondant permet d'accéder aux produits
LETMD1 Kits ELISA par Type de méthode
On trouve ici des LETMD1 Kits ELISA avec un Type de méthode spécifique. Les Type de méthode mentionnés ici sont quelques-uns de ceux qui sont disponibles. Un clic sur le lien correspondant permet d'accéder aux produits
LETMD1 Kits ELISA par Sample
On trouve ici des LETMD1 Kits ELISA avec un Sample spécifique. Les Sample mentionnés ici sont quelques-uns de ceux qui sont disponibles. Un clic sur le lien correspondant permet d'accéder aux produits
LETMD1 Kits ELISA fréquemment utilisés
Produit
Reactivity
Analytical Method
Validations
N° du produit
Quantité
Fiche technique
Reactivity Human
Analytical Method Quantitative Sandwich ELISA
N° du produit ABIN6957443
Quantité 96 tests
Reactivity Mouse
Analytical Method Quantitative Sandwich ELISA
N° du produit ABIN6230183
Quantité 96 tests
Pseudonymes pour LETMD1 Kits ELISA
LETM1 domain containing 1 (LETMD1) Kits ELISA
LETM1 domain containing 1 (Letmd1) Kits ELISA
1110019O13Rik Kits ELISA
AI593524 Kits ELISA
BB130465 Kits ELISA
BB235638 Kits ELISA
HCCR-1 Kits ELISA
HCCR-2 Kits ELISA
HCCR1 Kits ELISA
HCRR-2 Kits ELISA
MCC-32 Kits ELISA
Mccr Kits ELISA
RGD1310591 Kits ELISA