MAP2 Protéines
(Microtubule-Associated Protein 2 (MAP2))
This gene encodes a protein that belongs to the microtubule-associated protein family. The proteins of this family are thought to be involved in microtubule assembly, which is an essential step in neurogenesis. The products of similar genes in rat and mouse are neuron-specific cytoskeletal proteins that are enriched in dentrites, implicating a role in determining and stabilizing dentritic shape during neuron development. A number of alternatively spliced variants encoding distinct isoforms have been described. [provided by RefSeq, Jan 2010].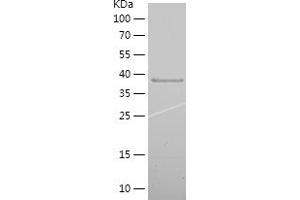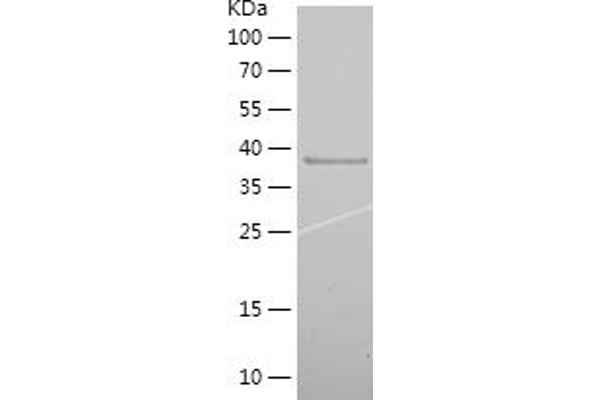 MAP2 Protein (AA 1-226) (His tag)

(ABIN7123963)
MAP2 Origine: Humain Hôte: Escherichia coli (E. coli) Recombinant Greater than 95 % by SDS-PAGE gel analyses ELISA, WB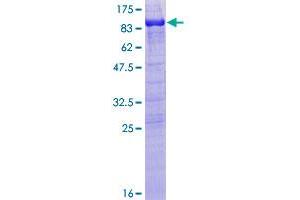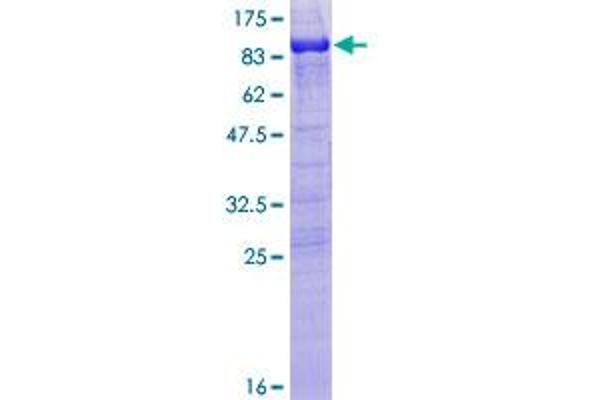 MAP2 Protein (AA 1-471) (GST tag)

(ABIN1310165)
MAP2 Origine: Humain Hôte: Wheat germ Recombinant AP, AA, ELISA, WB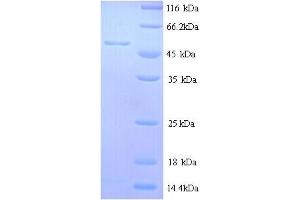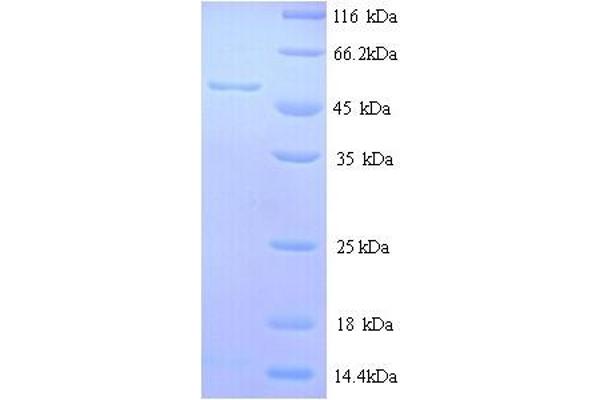 MAP2 Protein (AA 2-478) (His tag)

(ABIN5713640)
MAP2 Origine: Humain Hôte: Levure Recombinant > 90 % SDS
MAP2 Protéines par Origin
Trouvez MAP2 Protéines pour une variété d'espèces telles que anti-Human MAP2, anti-Mouse MAP2, anti-Rat MAP2. Les espèces listées ci-dessous sont parmi celles disponibles. Cliquez sur un lien pour accéder aux produits correspondants.
MAP2 Protéines par Source
On trouve ici des MAP2 Protéines avec un Source spécifique. Les Source mentionnés ici sont quelques-uns de ceux qui sont disponibles. Un clic sur le lien correspondant permet d'accéder aux produits
MAP2 Protéines par Type Proteine
On trouve ici des MAP2 Protéines avec un Type Proteine spécifique. Les Type Proteine mentionnés ici sont quelques-uns de ceux qui sont disponibles. Un clic sur le lien correspondant permet d'accéder aux produits
MAP2 Protéines par Application
Trouver MAP2 Protéines validé pour une application spécifique telle que SDS, WB, Imm, PC. Certaines des applications disponibles sont énumérées ci-dessous. Cliquez sur un lien pour accéder aux produits correspondants
MAP2 Protéines fréquemment utilisés
Produit
Reactivity
Source
Validations
N° du produit
Quantité
Fiche technique
Reactivity Human
Source Escherichia coli (E. coli)
N° du produit ABIN7123963
Quantité 50 μg
Reactivity Human
Source Wheat germ
N° du produit ABIN1310165
Quantité 10 μg
Reactivity Human
Source Yeast
N° du produit ABIN5713640
Quantité 100 μg
Reactivity Mouse
Source Yeast
N° du produit ABIN5713628
Quantité 100 μg
Reactivity Mouse
Source Escherichia coli (E. coli)
N° du produit ABIN5709895
Quantité 100 μg
Reactivity Rat
Source Escherichia coli (E. coli)
N° du produit ABIN3010693
Quantité 100 μg
Reactivity Human
Source HEK-293 Cells
N° du produit ABIN2725301
Quantité 20 μg
Reactivity Human
Source HEK-293 Cells
N° du produit ABIN2725302
Quantité 20 μg
Reactivity Mouse
Source Escherichia coli (E. coli)
N° du produit ABIN7411987
Quantité 100 μg
Reactivity Human
Source Escherichia coli (E. coli)
N° du produit ABIN7393817
Quantité 100 μg
Reactivity Mouse
Source Escherichia coli (E. coli)
N° du produit ABIN7393820
Quantité 100 μg
Reactivity Rat
Source Escherichia coli (E. coli)
N° du produit ABIN7403948
Quantité 100 μg
Pseudonymes pour MAP2 Protéines
microtubule associated protein 2 (MAP2) Protéines
microtubule-associated protein 2 (Map2) Protéines
microtubule associated protein 2 S homeolog (map2.S) Protéines
microtubule associated protein 2 (Map2) Protéines
microtubule-associated protein 2 (map2) Protéines
a730034c02 Protéines
MAP-2 Protéines
MAP2A Protéines
MAP2B Protéines
MAP2C Protéines
MAP2R Protéines
MGC53131 Protéines
Mtap-2 Protéines
Mtap2 Protéines
xmap2 Protéines
zgc:103474 Protéines
zgc:113974 Protéines