OB Cadherin Protéines
(Cadherin 11 (CDH11))
This gene encodes a type II classical cadherin from the cadherin superfamily, integral membrane proteins that mediate calcium-dependent cell-cell adhesion. Mature cadherin proteins are composed of a large N-terminal extracellular domain, a single membrane-spanning domain, and a small, highly conserved C-terminal cytoplasmic domain. Type II (atypical) cadherins are defined based on their lack of a HAV cell adhesion recognition sequence specific to type I cadherins. Expression of this particular cadherin in osteoblastic cell lines, and its upregulation during differentiation, suggests a specific function in bone development and maintenance. [provided by RefSeq, Jul 2008].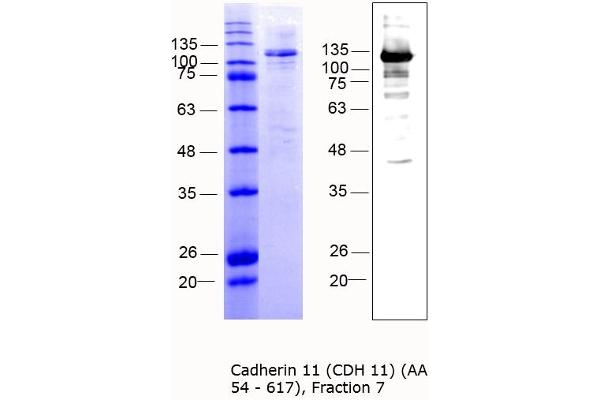 OB Cadherin Protein (AA 54-617) (MBP tag)

(ABIN3090705)
Crystallography grade CDH11 Origine: Humain Hôte: Cellules d'insectes Recombinant >95 % as determined by SDS PAGE, Size Exclusion Chromatography and Western Blot. Crys, ELISA, SDS, WB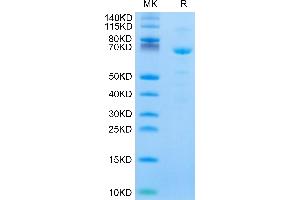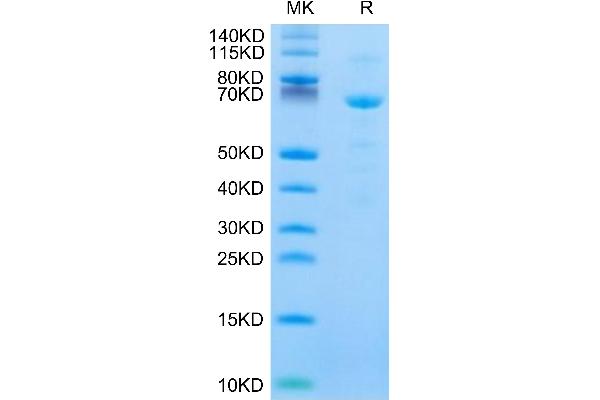 OB Cadherin Protein (His tag)

(ABIN7274305)
CDH11 Origine: Humain Hôte: HEK-293 Cells Recombinant > 95% as determined by Tris-Bis PAGE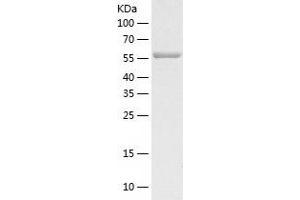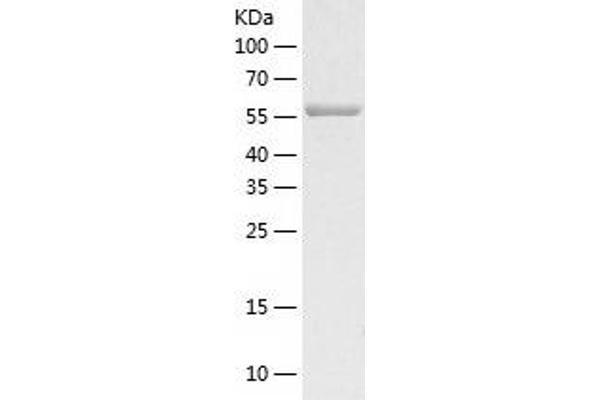 OB Cadherin Protein (AA 54-617) (His tag)

(ABIN7122070)
CDH11 Origine: Humain Hôte: Escherichia coli (E. coli) Recombinant Greater than 95 % by SDS-PAGE gel analyses ELISA, WB
OB Cadherin Protéines par Grade
On trouve ici des OB Cadherin Protéines avec un Grade spécifique. Les Grade mentionnés ici sont quelques-uns de ceux qui sont disponibles. Un clic sur le lien correspondant permet d'accéder aux produits
OB Cadherin Protéines par Origin
Trouvez OB Cadherin Protéines pour une variété d'espèces telles que anti-Human OB Cadherin, anti-Mouse OB Cadherin. Les espèces listées ci-dessous sont parmi celles disponibles. Cliquez sur un lien pour accéder aux produits correspondants.
OB Cadherin Protéines par Source
On trouve ici des OB Cadherin Protéines avec un Source spécifique. Les Source mentionnés ici sont quelques-uns de ceux qui sont disponibles. Un clic sur le lien correspondant permet d'accéder aux produits
OB Cadherin Protéines par Type Proteine
On trouve ici des OB Cadherin Protéines avec un Type Proteine spécifique. Les Type Proteine mentionnés ici sont quelques-uns de ceux qui sont disponibles. Un clic sur le lien correspondant permet d'accéder aux produits
OB Cadherin Protéines par Application
Trouver OB Cadherin Protéines validé pour une application spécifique telle que WB, ELISA, SDS, Crys. Certaines des applications disponibles sont énumérées ci-dessous. Cliquez sur un lien pour accéder aux produits correspondants
OB Cadherin Protéines fréquemment utilisés
Pseudonymes pour OB Cadherin Protéines
cadherin 11 (CDH11) Protéines
cadherin 11 (cdh11) Protéines
cadherin 11 (Cdh11) Protéines
cadherin 11, type 2, OB-cadherin (osteoblast) (cdh11) Protéines
cadherin 11 S homeolog (cdh11.S) Protéines
cad11 Protéines
Cad11 Protéines
CAD11 Protéines
cadherin-11 Protéines
cdhob Protéines
CDHOB Protéines
cdhvn Protéines
MGC108014 Protéines
OB Protéines
OB-cadherin Protéines
osf-4 Protéines
OSF-4 Protéines
vnc Protéines
Xcad-11 Protéines