PTGR1 Kits ELISA
(Prostaglandin Reductase 1 (PTGR1))
This gene encodes an enzyme that is involved in the inactivation of the chemotactic factor, leukotriene B4. The encoded protein specifically catalyzes the NADP+ dependent conversion of leukotriene B4 to 12-oxo-leukotriene B4. A pseudogene of this gene is found on chromosome 1. Alternative splicing results in multiple transcript variants. [provided by RefSeq, Mar 2009].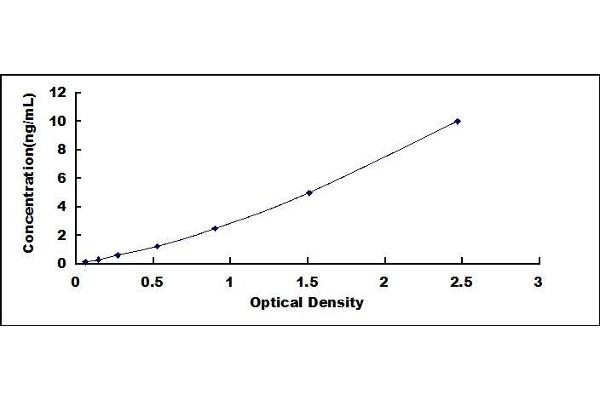 PTGR1 Kit ELISA

(ABIN6958872)
PTGR1 Reactivité: Humain Colorimetric Sandwich ELISA 0.15 ng/mL - 10 ng/mL Cell Lysate, Tissue Homogenate
PTGR1 Kit ELISA

(ABIN2851335)
PTGR1 Reactivité: Différentes espèces Colorimetric Competition ELISA 0.625 ng/mL - 40 ng/mL Plasma, Serum, Tissue Homogenate
PTGR1 Kits ELISA par Réactivité
Trouvez PTGR1 Kits ELISA pour une variété d'espèces telles que anti-Human PTGR1, anti-Various Species PTGR1. Les espèces listées ci-dessous sont parmi celles disponibles. Cliquez sur un lien pour accéder aux produits correspondants.
PTGR1 Kits ELISA par Méthode de détection
On trouve ici des PTGR1 Kits ELISA avec un Méthode de détection spécifique. Les Méthode de détection mentionnés ici sont quelques-uns de ceux qui sont disponibles. Un clic sur le lien correspondant permet d'accéder aux produits
PTGR1 Kits ELISA par Analytical Method
On trouve ici des PTGR1 Kits ELISA avec un Analytical Method spécifique. Les Analytical Method mentionnés ici sont quelques-uns de ceux qui sont disponibles. Un clic sur le lien correspondant permet d'accéder aux produits
PTGR1 Kits ELISA par Type de méthode
On trouve ici des PTGR1 Kits ELISA avec un Type de méthode spécifique. Les Type de méthode mentionnés ici sont quelques-uns de ceux qui sont disponibles. Un clic sur le lien correspondant permet d'accéder aux produits
PTGR1 Kits ELISA par Sample
On trouve ici des PTGR1 Kits ELISA avec un Sample spécifique. Les Sample mentionnés ici sont quelques-uns de ceux qui sont disponibles. Un clic sur le lien correspondant permet d'accéder aux produits
PTGR1 Kits ELISA fréquemment utilisés
Produit
Reactivity
Analytical Method
Validations
N° du produit
Quantité
Fiche technique
Reactivity Human
Analytical Method Quantitative Sandwich ELISA
N° du produit ABIN6958872
Quantité 96 tests
Reactivity Various Species
Analytical Method Quantitative Competition ELISA
N° du produit ABIN2851335
Quantité 96 tests
Pseudonymes pour PTGR1 Kits ELISA
prostaglandin reductase 1 (PTGR1) Kits ELISA
prostaglandin reductase 1 (Ptgr1) Kits ELISA
prostaglandin reductase 1 (ptgr1) Kits ELISA
2510002C21Rik Kits ELISA
Dig1 Kits ELISA
LTB4DH Kits ELISA
Ltb4dh Kits ELISA
ltb4dh Kits ELISA
PGR1 Kits ELISA
PTGR1 Kits ELISA
wu:fj35e05 Kits ELISA
ZADH3 Kits ELISA
zgc:101689 Kits ELISA