STMN2 Kits ELISA
(Stathmin-Like 2 (STMN2))
This gene encodes a member of the stathmin family of phosphoproteins. Stathmin proteins function in microtubule dynamics and signal transduction. The encoded protein plays a regulatory role in neuronal growth and is also thought to be involved in osteogenesis. Reductions in the expression of this gene have been associated with Down's syndrome and Alzheimer's disease. Alternatively spliced transcript variants have been observed for this gene. A pseudogene of this gene is located on the long arm of chromosome 6. [provided by RefSeq, Nov 2010].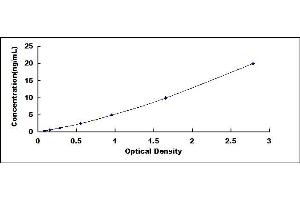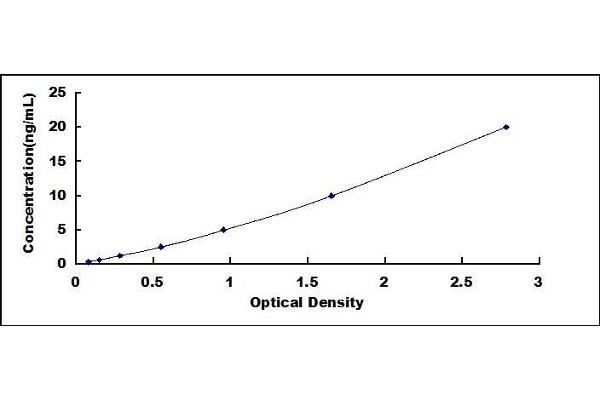 STMN2 Kit ELISA

(ABIN6959713)
STMN2 Reactivité: Humain Colorimetric Sandwich ELISA 0.31 ng/mL - 20 ng/mL Cell Lysate, Tissue Homogenate
STMN2 Kits ELISA par Réactivité
Trouvez STMN2 Kits ELISA pour une variété d'espèces telles que anti-Human STMN2. Les espèces listées ci-dessous sont parmi celles disponibles. Cliquez sur un lien pour accéder aux produits correspondants.
STMN2 Kits ELISA par Méthode de détection
On trouve ici des STMN2 Kits ELISA avec un Méthode de détection spécifique. Les Méthode de détection mentionnés ici sont quelques-uns de ceux qui sont disponibles. Un clic sur le lien correspondant permet d'accéder aux produits
STMN2 Kits ELISA par Analytical Method
On trouve ici des STMN2 Kits ELISA avec un Analytical Method spécifique. Les Analytical Method mentionnés ici sont quelques-uns de ceux qui sont disponibles. Un clic sur le lien correspondant permet d'accéder aux produits
STMN2 Kits ELISA par Type de méthode
On trouve ici des STMN2 Kits ELISA avec un Type de méthode spécifique. Les Type de méthode mentionnés ici sont quelques-uns de ceux qui sont disponibles. Un clic sur le lien correspondant permet d'accéder aux produits
STMN2 Kits ELISA par Sample
On trouve ici des STMN2 Kits ELISA avec un Sample spécifique. Les Sample mentionnés ici sont quelques-uns de ceux qui sont disponibles. Un clic sur le lien correspondant permet d'accéder aux produits
STMN2 Kits ELISA fréquemment utilisés
Produit
Reactivity
Analytical Method
Validations
N° du produit
Quantité
Fiche technique
Reactivity Human
Analytical Method Quantitative Sandwich ELISA
N° du produit ABIN6959713
Quantité 96 tests
Reactivity Human
Analytical Method Sandwich ELISA
N° du produit ABIN421550
Quantité 96 tests
Pseudonymes pour STMN2 Kits ELISA
stathmin 2 (stmn2) Kits ELISA
stathmin 2 (STMN2) Kits ELISA
stathmin 2b (stmn2b) Kits ELISA
stathmin-2-like (LOC100226401) Kits ELISA
stathmin-2 (Tsp_05441) Kits ELISA
stathmin-like 2 (Stmn2) Kits ELISA
stathmin 2 (Stmn2) Kits ELISA
AI159727 Kits ELISA
MGC89837 Kits ELISA
scg10 Kits ELISA
SCG10 Kits ELISA
Scg10 Kits ELISA
scgn10 Kits ELISA
SCGN10 Kits ELISA
Scgn10 Kits ELISA
Stmb2 Kits ELISA
STMN2 Kits ELISA
stmn2 Kits ELISA
stmn2c Kits ELISA
zgc:110132 Kits ELISA