FPGS Kits ELISA
(Folylpolyglutamate Synthase (FPGS))
This gene encodes the folylpolyglutamate synthetase enzyme. This enzyme has a central role in establishing and maintaining both cytosolic and mitochondrial folylpolyglutamate concentrations and, therefore, is essential for folate homeostasis and the survival of proliferating cells. This enzyme catalyzes the ATP-dependent addition of glutamate moieties to folate and folate derivatives. While several transcript variants may exist for this gene, the full-length natures of only two have been biologically validated to date. These two variants encode distinct isoforms. [provided by RefSeq, Jul 2008].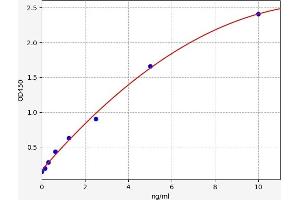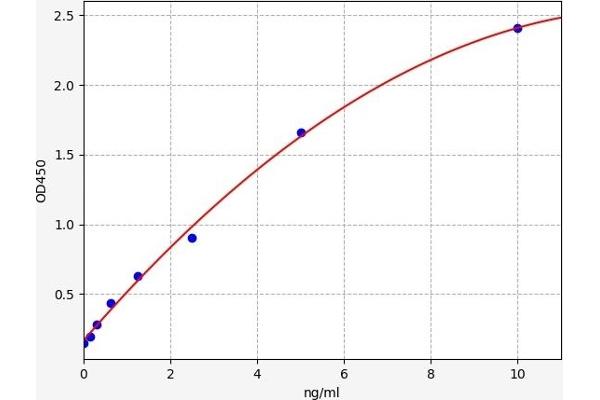 FPGS Kit ELISA

(ABIN6966873)
FPGS Reactivité: Humain Colorimetric Sandwich ELISA 0.156 ng/mL - 10 ng/mL Plasma, Serum, Tissue Homogenate
FPGS Kits ELISA par Réactivité
Trouvez FPGS Kits ELISA pour une variété d'espèces telles que anti-Human FPGS. Les espèces listées ci-dessous sont parmi celles disponibles. Cliquez sur un lien pour accéder aux produits correspondants.
FPGS Kits ELISA par Méthode de détection
On trouve ici des FPGS Kits ELISA avec un Méthode de détection spécifique. Les Méthode de détection mentionnés ici sont quelques-uns de ceux qui sont disponibles. Un clic sur le lien correspondant permet d'accéder aux produits
FPGS Kits ELISA par Analytical Method
On trouve ici des FPGS Kits ELISA avec un Analytical Method spécifique. Les Analytical Method mentionnés ici sont quelques-uns de ceux qui sont disponibles. Un clic sur le lien correspondant permet d'accéder aux produits
FPGS Kits ELISA par Type de méthode
On trouve ici des FPGS Kits ELISA avec un Type de méthode spécifique. Les Type de méthode mentionnés ici sont quelques-uns de ceux qui sont disponibles. Un clic sur le lien correspondant permet d'accéder aux produits
FPGS Kits ELISA par Sample
On trouve ici des FPGS Kits ELISA avec un Sample spécifique. Les Sample mentionnés ici sont quelques-uns de ceux qui sont disponibles. Un clic sur le lien correspondant permet d'accéder aux produits
FPGS Kits ELISA fréquemment utilisés
Produit
Reactivity
Analytical Method
Validations
N° du produit
Quantité
Fiche technique
Reactivity Human
Analytical Method Quantitative Sandwich ELISA
N° du produit ABIN6966873
Quantité 96 tests
Pseudonymes pour FPGS Kits ELISA
folylpolyglutamate synthase (fpgs) Kits ELISA
folylpolyglutamate synthase (fpgS) Kits ELISA
folylpolyglutamate synthase (FPGS) Kits ELISA
folylpolyglutamate synthase (SCO2614) Kits ELISA
folylpolyglutamate synthase (fgs) Kits ELISA
folylpolyglutamate synthase (folC) Kits ELISA
dihydrofolate synthase (folC) Kits ELISA
folylpolyglutamate synthase, mitochondrial (CpipJ_CPIJ008043) Kits ELISA
folylpolyglutamate synthase (Fpgs) Kits ELISA
folylpolyglutamyl synthetase (Fpgs) Kits ELISA
AA408187 Kits ELISA
BA4689 Kits ELISA
FPGS Kits ELISA
fpgS Kits ELISA
SCC88.25c Kits ELISA
wu:fk49h03 Kits ELISA
wu:fk51d09 Kits ELISA
zgc:63807 Kits ELISA