FOSL2 Kits ELISA
(FOS-Like Antigen 2 (FOSL2))
The Fos gene family consists of 4 members FOSL1, and FOSL2. These genes encode leucine zipper proteins that can dimerize with proteins of the JUN family, thereby forming the transcription factor complex AP-1. As such, the FOS proteins have been implicated as regulators of cell proliferation, differentiation, and transformation. [provided by RefSeq, Jul 2008].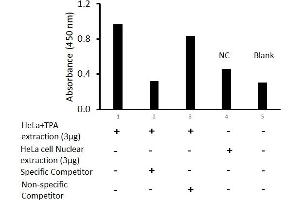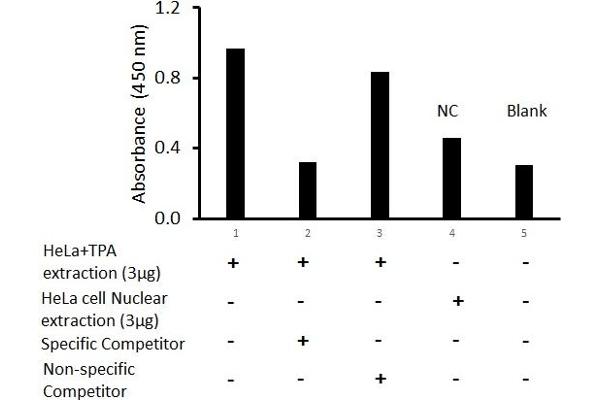 FOSL2 Kit ELISA

(ABIN5526741)
FOSL2 Reactivité: Humain Colorimetric DNA-Binding ELISA Cell Lysate, Nuclear Extract
FOSL2 Kits ELISA par Réactivité
Trouvez FOSL2 Kits ELISA pour une variété d'espèces telles que anti-Human FOSL2, anti-Mouse FOSL2, anti-Rat FOSL2. Les espèces listées ci-dessous sont parmi celles disponibles. Cliquez sur un lien pour accéder aux produits correspondants.
FOSL2 Kits ELISA par Méthode de détection
On trouve ici des FOSL2 Kits ELISA avec un Méthode de détection spécifique. Les Méthode de détection mentionnés ici sont quelques-uns de ceux qui sont disponibles. Un clic sur le lien correspondant permet d'accéder aux produits
FOSL2 Kits ELISA par Analytical Method
On trouve ici des FOSL2 Kits ELISA avec un Analytical Method spécifique. Les Analytical Method mentionnés ici sont quelques-uns de ceux qui sont disponibles. Un clic sur le lien correspondant permet d'accéder aux produits
FOSL2 Kits ELISA par Type de méthode
On trouve ici des FOSL2 Kits ELISA avec un Type de méthode spécifique. Les Type de méthode mentionnés ici sont quelques-uns de ceux qui sont disponibles. Un clic sur le lien correspondant permet d'accéder aux produits
FOSL2 Kits ELISA par Sample
On trouve ici des FOSL2 Kits ELISA avec un Sample spécifique. Les Sample mentionnés ici sont quelques-uns de ceux qui sont disponibles. Un clic sur le lien correspondant permet d'accéder aux produits
FOSL2 Kits ELISA fréquemment utilisés
Produit
Reactivity
Analytical Method
Validations
N° du produit
Quantité
Fiche technique
Reactivity Human
Analytical Method Semi-Quantitative DNA-Binding ELISA
N° du produit ABIN5526741
Quantité 96 tests
Reactivity Human, Mouse, Rat
Analytical Method Qualitative Cell ELISA
N° du produit ABIN1381148
Quantité 96 tests
Reactivity Human, Mouse, Rat
Analytical Method Qualitative DNA-Binding ELISA
N° du produit ABIN5648612
Quantité 96 tests
Reactivity Human
Analytical Method Quantitative Sandwich ELISA
N° du produit ABIN6228442
Quantité 96 tests
Reactivity Human, Mouse, Rat
Analytical Method Qualitative Cell ELISA
N° du produit ABIN2684306
Quantité 1 kit
Pseudonymes pour FOSL2 Kits ELISA
FOS like 2, AP-1 transcription factor subunit (FOSL2) Kits ELISA
fos-like antigen 2 (Fosl2) Kits ELISA
FOS like 2, AP-1 transcription factor subunit (Fosl2) Kits ELISA
fos-like antigen 2 (fosl2) Kits ELISA
FOSL2 Kits ELISA
Fra-2 Kits ELISA
fra-2 Kits ELISA
FRA2 Kits ELISA
Fra2 Kits ELISA
fra2 Kits ELISA
PLB1 Kits ELISA
wu:fl17h04 Kits ELISA
xx:fl17h04 Kits ELISA
zgc:158347 Kits ELISA