SLBP Kits ELISA
(Stem-Loop Binding Protein (SLBP))
This gene encodes a protein that binds to the stem-loop structure in replication-dependent histone mRNAs. Histone mRNAs do not contain introns or polyadenylation signals, and are processed by endonucleolytic cleavage. The stem-loop structure is essential for efficient processing but this structure also controls the transport, translation and stability of histone mRNAs. Expression of the protein is regulated during the cell cycle, increasing more than 10-fold during the latter part of G1. [provided by RefSeq, Jul 2008].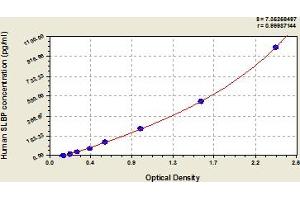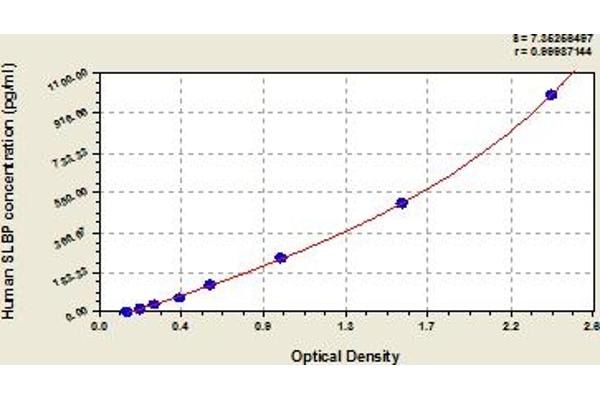 SLBP Kit ELISA

(ABIN6974832)
SLBP Reactivité: Humain Colorimetric Sandwich ELISA 15.6 pg/mL - 1000 pg/mL Cell Lysate, Plasma, Serum, Tissue Homogenate
SLBP Kits ELISA par Réactivité
Trouvez SLBP Kits ELISA pour une variété d'espèces telles que anti-Human SLBP, anti-Mouse SLBP. Les espèces listées ci-dessous sont parmi celles disponibles. Cliquez sur un lien pour accéder aux produits correspondants.
SLBP Kits ELISA par Méthode de détection
On trouve ici des SLBP Kits ELISA avec un Méthode de détection spécifique. Les Méthode de détection mentionnés ici sont quelques-uns de ceux qui sont disponibles. Un clic sur le lien correspondant permet d'accéder aux produits
SLBP Kits ELISA par Analytical Method
On trouve ici des SLBP Kits ELISA avec un Analytical Method spécifique. Les Analytical Method mentionnés ici sont quelques-uns de ceux qui sont disponibles. Un clic sur le lien correspondant permet d'accéder aux produits
SLBP Kits ELISA par Type de méthode
On trouve ici des SLBP Kits ELISA avec un Type de méthode spécifique. Les Type de méthode mentionnés ici sont quelques-uns de ceux qui sont disponibles. Un clic sur le lien correspondant permet d'accéder aux produits
SLBP Kits ELISA par Sample
On trouve ici des SLBP Kits ELISA avec un Sample spécifique. Les Sample mentionnés ici sont quelques-uns de ceux qui sont disponibles. Un clic sur le lien correspondant permet d'accéder aux produits
SLBP Kits ELISA fréquemment utilisés
Produit
Reactivity
Analytical Method
Validations
N° du produit
Quantité
Fiche technique
Reactivity Human
Analytical Method Quantitative Sandwich ELISA
N° du produit ABIN6974832
Quantité 96 tests
Reactivity Mouse
Analytical Method
N° du produit ABIN1136967
Quantité 96 tests
Pseudonymes pour SLBP Kits ELISA
stem-loop binding protein (Slbp) Kits ELISA
Stem-loop binding protein (Slbp) Kits ELISA
stem-loop binding protein (slbp) Kits ELISA
stem-loop binding protein (SLBP) Kits ELISA
histone RNA hairpin-binding protein (LOC726745) Kits ELISA
histone RNA hairpin-binding protein (EHI_178590) Kits ELISA
histone RNA hairpin-binding protein (CpipJ_CPIJ008644) Kits ELISA
histone RNA hairpin-binding protein (slbp) Kits ELISA
stem-loop binding protein L homeolog (slbp.L) Kits ELISA
cb157 Kits ELISA
CG11886 Kits ELISA
Dmel\\CG11886 Kits ELISA
dSLBP Kits ELISA
dSLPB Kits ELISA
GB13630 Kits ELISA
HBP Kits ELISA
sb:cb157 Kits ELISA
si:dkey-102m7.2 Kits ELISA
SLBP Kits ELISA
slbp Kits ELISA
slbp1 Kits ELISA
xslbp Kits ELISA