LIMS1 Kits ELISA
(LIM and Senescent Cell Antigen-Like Domains 1 (LIMS1))
The protein encoded by this gene is an adaptor protein which contains five LIM domains, or double zinc fingers. The protein is likely involved in integrin signaling through its LIM domain-mediated interaction with integrin-linked kinase, found in focal adhesion plaques. It is also thought to act as a bridge linking integrin-linked kinase to NCK adaptor protein 2, which is involved in growth factor receptor kinase signaling pathways. Its localization to the periphery of spreading cells also suggests that this protein may play a role in integrin-mediated cell adhesion or spreading. Several transcript variants encoding different isoforms have been found for this gene. [provided by RefSeq, Jul 2010].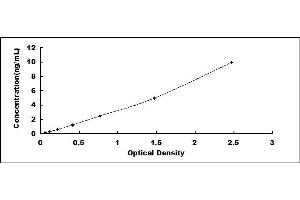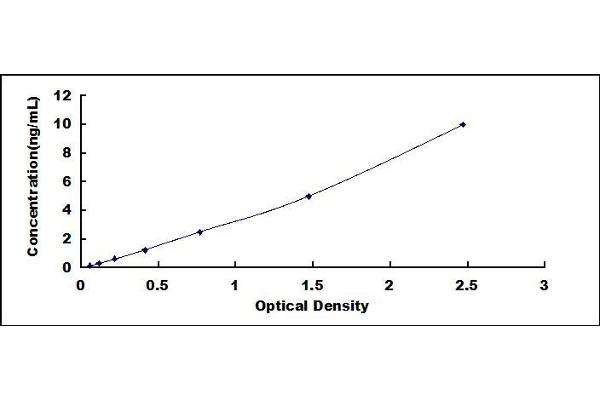 LIMS1 Kit ELISA

(ABIN6957478)
LIMS1 Reactivité: Humain Colorimetric Sandwich ELISA 0.15 ng/mL - 10 ng/mL Cell Lysate, Tissue Homogenate
LIMS1 Kits ELISA par Réactivité
Trouvez LIMS1 Kits ELISA pour une variété d'espèces telles que anti-Human LIMS1. Les espèces listées ci-dessous sont parmi celles disponibles. Cliquez sur un lien pour accéder aux produits correspondants.
LIMS1 Kits ELISA par Méthode de détection
On trouve ici des LIMS1 Kits ELISA avec un Méthode de détection spécifique. Les Méthode de détection mentionnés ici sont quelques-uns de ceux qui sont disponibles. Un clic sur le lien correspondant permet d'accéder aux produits
LIMS1 Kits ELISA par Analytical Method
On trouve ici des LIMS1 Kits ELISA avec un Analytical Method spécifique. Les Analytical Method mentionnés ici sont quelques-uns de ceux qui sont disponibles. Un clic sur le lien correspondant permet d'accéder aux produits
LIMS1 Kits ELISA par Type de méthode
On trouve ici des LIMS1 Kits ELISA avec un Type de méthode spécifique. Les Type de méthode mentionnés ici sont quelques-uns de ceux qui sont disponibles. Un clic sur le lien correspondant permet d'accéder aux produits
LIMS1 Kits ELISA par Sample
On trouve ici des LIMS1 Kits ELISA avec un Sample spécifique. Les Sample mentionnés ici sont quelques-uns de ceux qui sont disponibles. Un clic sur le lien correspondant permet d'accéder aux produits
LIMS1 Kits ELISA fréquemment utilisés
Produit
Reactivity
Analytical Method
Validations
N° du produit
Quantité
Fiche technique
Reactivity Human
Analytical Method Quantitative Sandwich ELISA
N° du produit ABIN6957478
Quantité 96 tests
Pseudonymes pour LIMS1 Kits ELISA
LIM zinc finger domain containing 1 (LIMS1) Kits ELISA
LIM zinc finger domain containing 1 (Lims1) Kits ELISA
LIM and senescent cell antigen-like domains 1 (Lims1) Kits ELISA
2310016J22Rik Kits ELISA
4921524A02Rik Kits ELISA
AI507642 Kits ELISA
AU021743 Kits ELISA
AW551584 Kits ELISA
C430041B13Rik Kits ELISA
Lims1l Kits ELISA
LIMS3 Kits ELISA
LIMS3L Kits ELISA
PINCH Kits ELISA
PINCH-1 Kits ELISA
PINCH1 Kits ELISA
Pinch1 Kits ELISA
RGD1560732 Kits ELISA