FKBP8 Kits ELISA
(FK506 Binding Protein 8, 38kDa (FKBP8))
The protein encoded by this gene is a member of the immunophilin protein family, which play a role in immunoregulation and basic cellular processes involving protein folding and trafficking. Unlike the other members of the family, this encoded protein does not seem to have PPIase/rotamase activity. It may have a role in neurons associated with memory function. [provided by RefSeq, Jul 2008].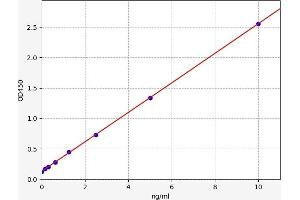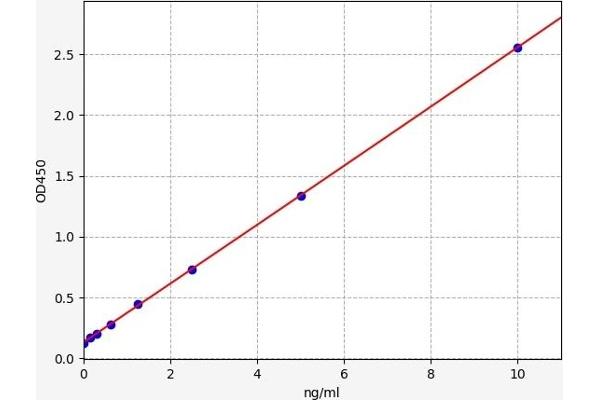 FK506 Binding Protein 8, 38kDa (FKBP8) ELISA Kit

(ABIN6966830)
FKBP8 Reactivité: Humain Colorimetric Sandwich ELISA 0.156 ng/mL - 10 ng/mL Plasma, Serum, Tissue Homogenate
FKBP8 Kits ELISA par Réactivité
Trouvez FKBP8 Kits ELISA pour une variété d'espèces telles que anti-Human FKBP8, anti-Mouse FKBP8, anti-Rat FKBP8. Les espèces listées ci-dessous sont parmi celles disponibles. Cliquez sur un lien pour accéder aux produits correspondants.
FKBP8 Kits ELISA par Méthode de détection
On trouve ici des FKBP8 Kits ELISA avec un Méthode de détection spécifique. Les Méthode de détection mentionnés ici sont quelques-uns de ceux qui sont disponibles. Un clic sur le lien correspondant permet d'accéder aux produits
FKBP8 Kits ELISA par Analytical Method
On trouve ici des FKBP8 Kits ELISA avec un Analytical Method spécifique. Les Analytical Method mentionnés ici sont quelques-uns de ceux qui sont disponibles. Un clic sur le lien correspondant permet d'accéder aux produits
FKBP8 Kits ELISA par Type de méthode
On trouve ici des FKBP8 Kits ELISA avec un Type de méthode spécifique. Les Type de méthode mentionnés ici sont quelques-uns de ceux qui sont disponibles. Un clic sur le lien correspondant permet d'accéder aux produits
FKBP8 Kits ELISA par Sample
On trouve ici des FKBP8 Kits ELISA avec un Sample spécifique. Les Sample mentionnés ici sont quelques-uns de ceux qui sont disponibles. Un clic sur le lien correspondant permet d'accéder aux produits
FKBP8 Kits ELISA fréquemment utilisés
Produit
Reactivity
Analytical Method
Validations
N° du produit
Quantité
Fiche technique
Reactivity Mouse
Analytical Method
N° du produit ABIN1147328
Quantité 96 tests
Reactivity Rat
Analytical Method
N° du produit ABIN1147329
Quantité 96 tests
Pseudonymes pour FKBP8 Kits ELISA
FK506 binding protein 8 (FKBP8) Kits ELISA
FK506 binding protein 8 (fkbp8) Kits ELISA
FK506 binding protein 8 (Fkbp8) Kits ELISA
FK506 binding protein 8 L homeolog (fkbp8.L) Kits ELISA
38kDa Kits ELISA
FKBP-8 Kits ELISA
FKBP-38 Kits ELISA
FKBP8 Kits ELISA
fkbp8 Kits ELISA
Fkbp38 Kits ELISA
FKBP38 Kits ELISA
FKBPr38 Kits ELISA
zgc:77672 Kits ELISA